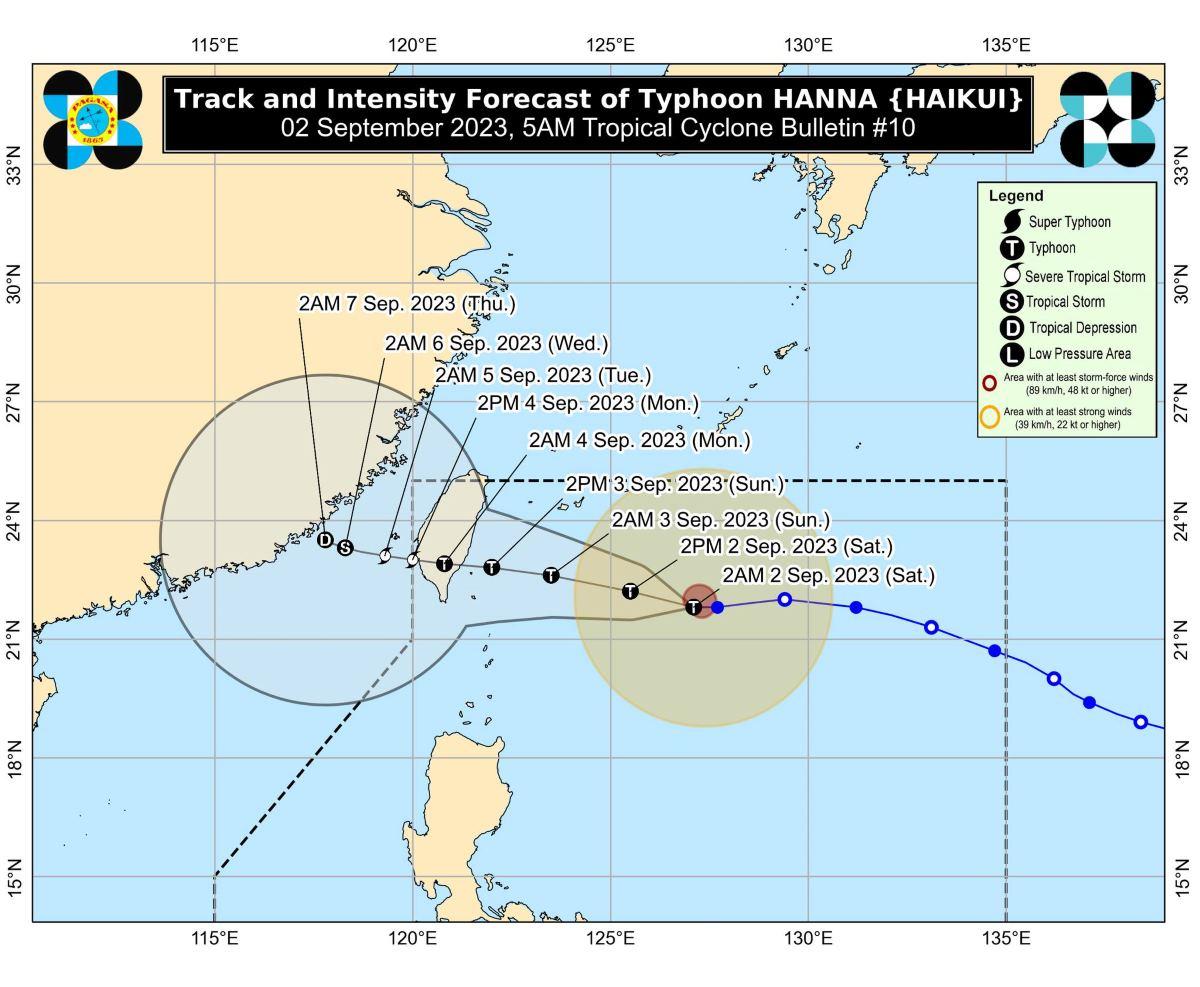 - Advertisement -
Tropical Cyclone Wind Signal No. 1 was raised over Batanes early Saturday as Typhoon Hanna (international name: Haikui) continued moving generally westward towards the sea east of Taiwan, PAGASA said in its bulletin.
Batanes will experience strong winds in 36 hours with wind speeds of 39 to 61 km/h, which pose minimal to minor threat to life and property.
- Advertisement -
It will also have 50 to 100 mm of rainfall on Sunday.
At 4 a.m., the center of Hanna was estimated to be located at 520 km east northeast of Itbayat, Batanes.
It has maximum sustained winds of 120 km/h near the center, gustiness of up to 150 km/h, and central pressure of 975 hPa.
Hanna is moving westward at 10 km/h.
From Hanna's center, strong to typhoon-force winds are extending outwards up to 400 km.
Habagat
Meanwhile, the Southwest Monsoon (Habagat) is being enhanced by Hanna and two other tropical cyclones which are outside the Philippine Area of Responsibility.
The monsoon will bring occasional to monsoon rains over the western portion of Luzon in the next three days.
PAGASA said gusty conditions will be felt in the following areas not under TCWS, especially in coastal and upland/mountainous areas exposed to winds:
• Saturday and Sunday: Batanes, Babuyan Islands, Ilocos Region, Cordillera Administrative Region, Nueva Vizcaya, Zambales, Pampanga, Bataan, Aurora, Bulacan, Metro Manila, Calabarzon, Mimaropa, Bicol Region, Western Visayas, and the northern portion of Eastern Visayas.
• Monday: Batanes, Babuyan Islands, Ilocos Region, Cordillera Administrative Region, Nueva Vizcaya, Zambales, Pampanga, Bataan, Aurora, Bulacan, Metro Manila, Calabarzon, and most of Bicol Region, MIMAROPA, and Western Visayas.
Coastal waters
PAGASA raised a gale warning over the northern and western seaboards of Luzon, the eastern seaboards of Central and Southern Luzon, portions of seaboards of Northern Quezon, the southern seaboard of Southern Luzon, and the western seaboard of Visayas due to the effects of Hanna and the monsoon.
Track, intensity outlook
"HANNA is now forecast to move west northwestward or westward while intensifying until it makes landfall along the east coast of southern Taiwan between late Sunday or early Monday," PAGASA said.
The typhoon is expected to weaken then become a severe tropical storm or minimal typhoon before exiting the Philippine Area of Responsibility (PAR) around Monday afternoon or evening.
"Outside the PAR region, HANNA is forecast to move erratically and may even become slow-moving or almost stationary over the Taiwan Strait while continuously weakening due to land interaction and increasingly unfavorable environment. By late Wednesday or early Thursday, HANNA will have weakened into a tropical depression," PAGASA added.
The weather bureau advised the public and disaster risk reduction and management offices concerned to take the necessary measures to protect life and property.
PAGASA will issue the next tropical cyclone bulletin at 11 a.m.
Effects felt
Batanes has yet to fully assess the damage caused by Typhoon Goring but it is already feeling the effects of Hanna on Saturday.
According to Batanes Provincial Disaster Risk and Reduction Management Office head Roldan Esdicul, the waves are rough, affecting the delivery of fuel to the island of Itbayat. This has affected the power situation in the municipality.
Meanwhile, Internet data service is down, thus authorities have to make do with call and text communication for now.
Marikina River
The water level at Marikina River reached 15.1 meters at 2 a.m. on Saturday after heavy rains brought by the monsoon, prompting authorities to raise the first alarm. This means residents should "prepare" to evacuate.
At 6 a.m. on Saturday, though, the water level went down to 14.6 meters which is normal, thus the first alarm was deactivated. —KG, GMA Integrated News
7 Easy Ways To Make Extra Money At Home


Learn Trading and know Two Platform that easy to Start With