Many Filipinos expressed frustration at having to line up for days to ensure they will be included in the daily cutoff for the voter registration at offices of the Commission on Elections (Comelec) and other sites, with the September 30 deadline nearing.
- Advertisement -
At a mall in Paco, Manila designated as a satellite site for voter registration in the sixth district, only 150 applicants will be accommodated on Tuesday, according to a report by Jonathan Andal on GMA News' Unang Balita.
Some of the applicants in the queue said they were in line for 10 hours since the day before.
- Advertisement -
Leonardo Madrazo and his wife started lining up at 6 p.m. on Monday for Tuesday's registration set to start at 8 a.m.
He said it is already their third time to line up for registration. The first time they did so, they arrived at 4 a.m., but they were already applicant numbers 161 and 162, beyond the cutoff.
Louie Marcelo, who accompanied his children to register, said Tuesday is already their fourth day to try to make the cutoff.
"Walang rules na nasusunod kung saan ang tamang pila,"he said.
(No rules are being followed as to which is the right queue.)
James Kenneth Jardio said he was at the site on Monday, and there was a commotion since some people cut the line. He said their names were already listed, but such list was not followed on Monday, and so he had to fall in line again on Tuesday.
Annabel dela Cerna also complained about the lack of system as it is already their second time to come back and fall in line.
"Walang pagbabago tapos 150 lang ang cutoff nila. Sana dinagdagan," she said.
(There is no change, then their cutoff is only 150 [applicants]. They should have added more.)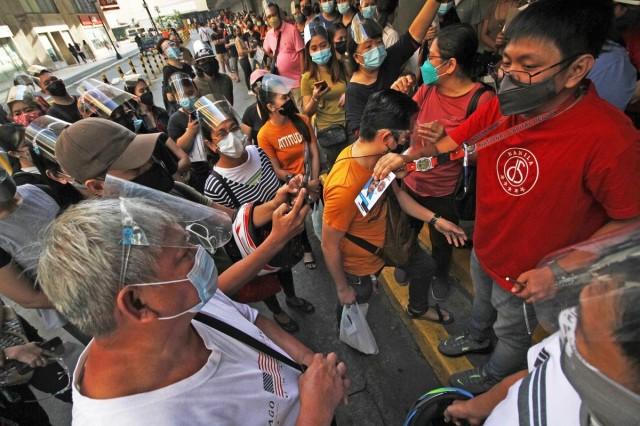 An irate voter registration applicant (left) questions a Commission on Elections staff (right) regarding the system being implemented in voter registration at the Robinsons Mall in Manila on Tuesday, September 28, 2021, two days before the deadline. Many registrants expressed frustration at having to endure long lines as Comelec offices and satellite sites implement early cutoff. Danny Pata
Some people brought food, water, and mats, expecting a long wait. 
Voter applicants however, said they were willing to endure the long wait just to make sure they will be able to vote in Eleksyon 2022.
"Kahit mahirap, basta worth it naman eh. Kahit isang boto mo lang eh yung isang boto mo na yon, importante yon eh," Eunice dela Cerna, a first-time voter, said.
(Even if it's hard, as long as it is worth it… Even just one vote, that vote is important.)
At SM North EDSA in Quezon City, only 300 voter applicants will be accommodated.
Some applicants lined up as early as 10 p.m. Monday, according to a report by James Agustin on Unang Balita.
At Trinoma mall in Quezon City, 300 slots were also made available on Tuesday for voter applicants, but the cutoff was already reached as early as 3:30 a.m., according to a report by Sam Nielsen on Super Radyo dzBB.
Some residents however decided to wait and see if they will still be accommodated even beyond the cutoff.
Ilan pang magpaparehistro, humabol sa pila sa Trinoma Mall kahit na maagang naabot ang cut-off. | via @dzbbsamnielsen pic.twitter.com/yMUNgd4GUG

— DZBB Super Radyo (@dzbb) September 28, 2021
At the SM City Marikina, voter applicants patiently waited in line before dawn hoping to make it to the cutoff, according to a report by Mark Makalalad on Super Radyo dzBB.
The mall guards gave out stubs to ensure that social distancing would be observed.
Only 500 applicants will be processed at this site on Tuesday.
Mga magpaparehistro sa SM City Marikina, maagang binigyan ng stub dahil mahaba na ang pila. | via @MMakalalad pic.twitter.com/gP9ZopmVfn

— DZBB Super Radyo (@dzbb) September 27, 2021
Meanwhile, at Greenhills Mall, only a few voter applicants were seen in the area before 8 a.m., according to a report by Mark Makalalad on Super Radyo dzBB.
Five hundred slots are available for voter registrants on Tuesday at this site, but since many have already registered before, the number of applicants arriving is not that many. The cutoff has not been reached yet as of past 8 a.m.
Pila sa voter registration sa Greenhills Mall, maikli pa ngayong umaga. | via @MMakalalad pic.twitter.com/yUiLIkYjs2

— DZBB Super Radyo (@dzbb) September 28, 2021
Hoping for extension
Meanwhile, some voter applicants went to the Comelec office in Quezon City only to find out the registration was being held at shopping malls, according to Agustin's report.
Sheila May Hilario arrived at the Comelec office in Quezon City early Tuesday, her second time to do so, to try to register.
"Ang government hindi na pinapansin mahihirap," she said, expressing frustration at the process.
(The government is not minding the hardship [voter applicants face].)
"Need talaga i-extend dahil hindi lahat nakarehistro," she said.
(They need to extend [the voter registration] because not everyone is registered.)
The deadline for the registration of voters is September 30, 2021, according to Comelec.
The House of Representatives however on Monday approved on third and final reading the measure seeking to extend the voter's registration for Eleksyon 2022.
Comelec spokesman James Jimenez said the poll body en banc will soon decide whether to extend voter registration deadline for Eleksyon 2022 beyond its deadline on September 30. —KG, GMA News
Read more, click here: GMA News
7 Easy Ways To Make Extra Money At Home