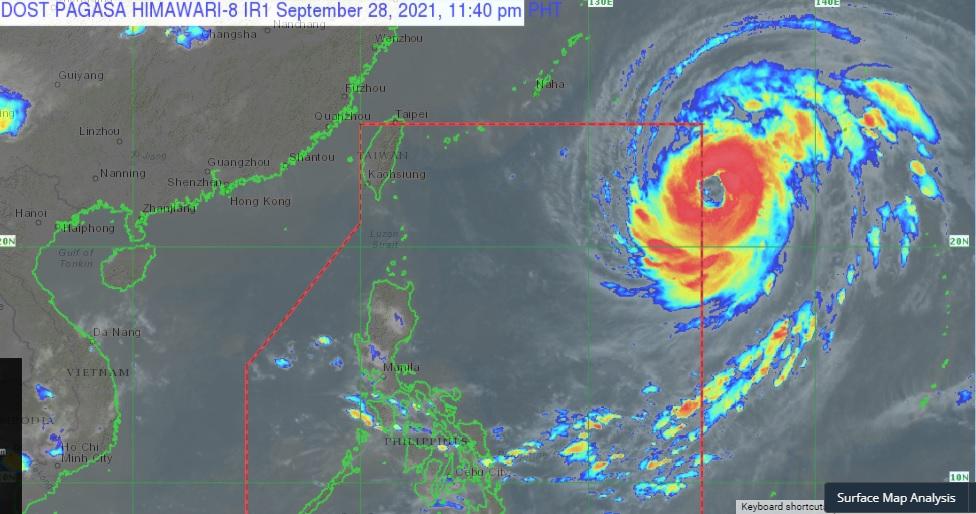 - Advertisement -
Typhoon Mindulle is nearing the northeastern edge of the Philippine Area of Responsibility and may enter the country's jurisdiction on Wednesday, PAGASA said Tuesday.
In its tropical cyclone advisory at 11 p.m., the state weather bureau said the center of Mindulle was located at 1,420 kilometers east of Extreme Northern Luzon, moving slowly north-northwest.
- Advertisement -
It is packing maximum sustained winds of 165 kilometers per hour near its center and gusts up to 205 kph.
PAGASA also indicated that if the typhoon enters PAR on Wednesday, it will probably also exit it within 24 hours.
But it also noted that it is possible that the typhoon will not enter the PAR at all.
"[C]onsidering that the typhoon has been tracking more north northwestward over the past couple of hours, there is an increasing possibility that it may not enter the PAR region at all," the nation's weather bureau said.
If it enters PAR, PAGASA said, the typhoon will be given a domestic name of "Lannie."
The typhoon is also "unlikely" to affect weather conditions in the Philippines, said PAGASA.
Further, the typhoon is also forecast to reach a peak intensity of 175 kph.
It will then weaken as it approaches the waters of south Japan, PAGASA added.
Moderate to rough seas
The typhoon will also affect sea conditions in the country in the next 24 hours.
It will bring moderate to rough seas over the  northern and eastern seaboards of Luzon.
"These conditions are risky for those using small seacraft. Mariners are advised to take precautionary measures when venturing out to sea and, if possible, avoid navigating in these conditions," PAGASA also warned. — Consuelo Marquez/BM, GMA News
7 Easy Ways To Make Extra Money At Home