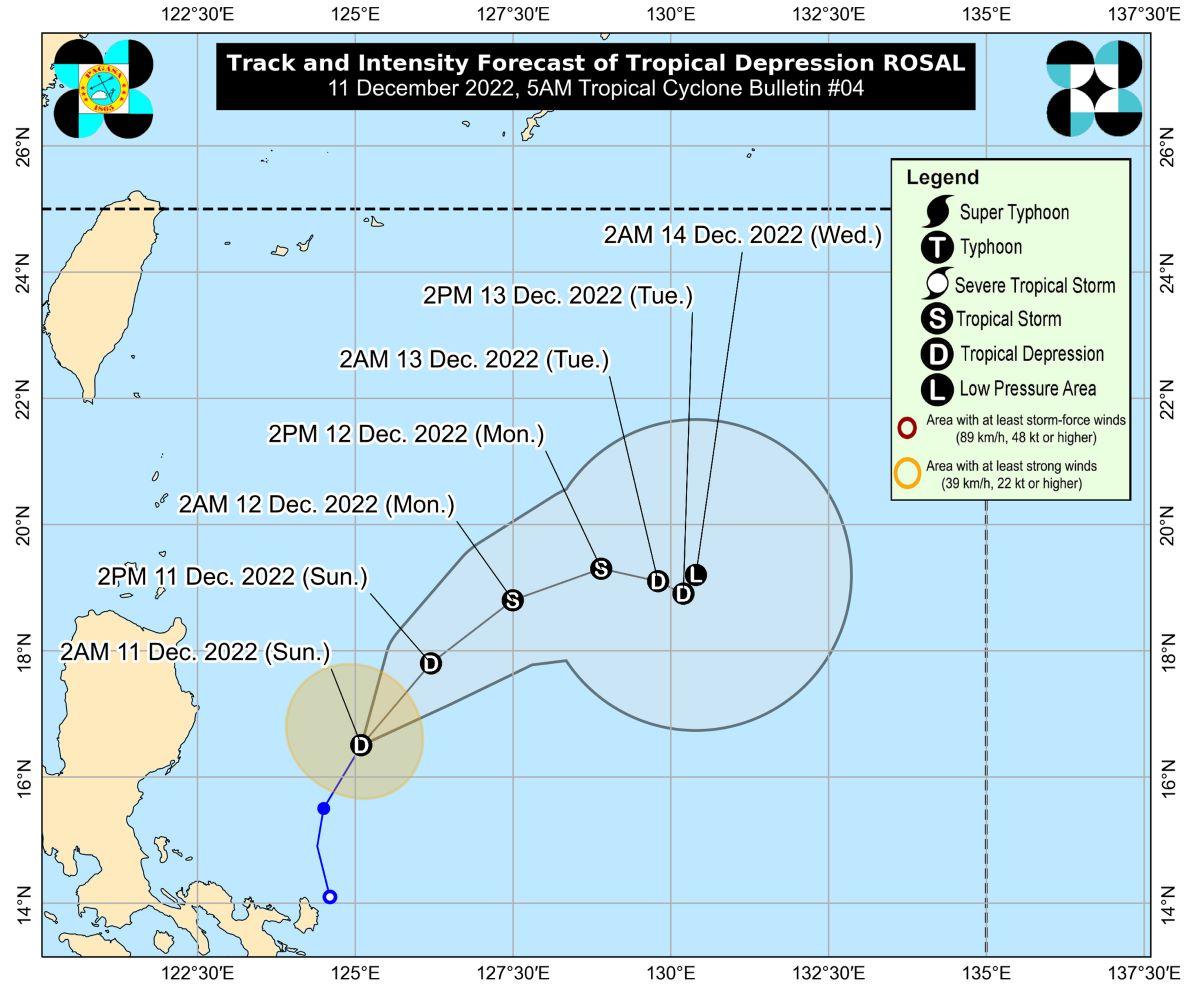 - Advertisement -
Tropical Depression Rosal continued traversing the Philippine Sea east of Aurora on Sunday, maintaining its strength, and may bring light to moderate with at times heavy rains over Mimaropa until noon, PAGASA said in its bulletin.
"Flooding and rain-induced landslides are still possible in some areas, especially in areas that are highly or very highly susceptible to these hazard as identified in hazard maps and in localities with significant antecedent rainfall," the weather bureau said.
- Advertisement -
At 4 a.m., the center of Rosal was estimated to be located at 330 km east of Casiguran, Aurora.
Rosal has maximum sustained winds of 45 km/h near the center, gustiness of up to 55 km/h, and central pressure of 1002 hPa.
It is moving north northeastward at 20 km/h.
From the center of Rosal, strong winds are extending outwards up to 150 km.
No tropical cyclone wind signals were raised.
Winds, coastal waters
The surge of the Northeast Monsoon partly enhanced by Rosal may bring occasional gusts reaching gale-force strength over Batanes and Babuyan Islands in the next 24 hours.
Strong breeze to near-gale strength winds may be expected over Ilocos Norte, the northern and eastern portions of Cagayan, the eastern portion of Isabela, Calaguas Islands, and the extreme northern portion of Catanduanes.
A marine gale warning was also raised over the seaboards of Northern Luzon due to the influence of the surge of the Northeast Monsoon partly enhanced by the tropical depression.
The surge of the monsoon and Rosal may also cause coastal waters over the seaboards of Central Luzon and the eastern and western seaboards of Southern Luzon to be moderate to rough in the next 24 hours, with waves possibly reaching up to 3.5 meters.
"These conditions may be risky for those using small seacrafts. Mariners are advised to take precautionary measures when venturing out to sea and, if possible, avoid navigating in these conditions," PAGASA said.
Track, intensity
Rosal is expected to move generally northeastward on Sunday up to Monday morning before turning east southeastward.
In the next 36 hours, Rosal may intensify into a low-end tropical storm.
However, by late Monday or early Tuesday, Rosal may weaken due to increasingly unfavorable conditions associated within the monsoon surge.
By Wednesday, "Rosal may become a post-tropical low [pressure area] embedded along the leading edge of the monsoon surge," PAGASA said.
The weather bureau advised the public and disaster risk reduction and management offices concerned to take all measures to protect life and property.
The next weather bulletin will be issued at 11 a.m. —KG, GMA Integrated News