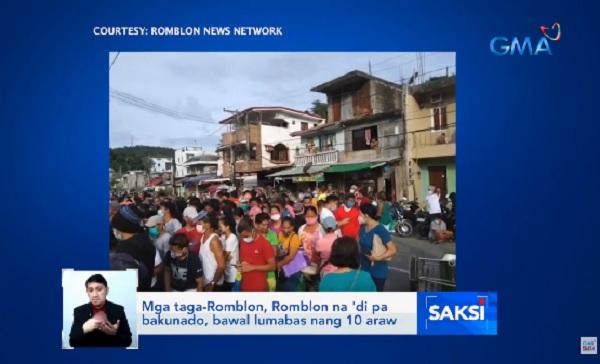 - Advertisement -
The residents of the town of Romblon in Romblon province trooped to COVID-19 vaccination sites a day before the local government imposes an ordinance banning non-vaccinated individuals from leaving their homes, according to a report on "Saksi" on Thursday.
The people, however, did not follow the health protocol of maintaining physical distancing.
- Advertisement -
Beginning on Friday, October 1, non-vaccinated people are not allowed to leave their homes while unvaccinated employees will not be able to go home.
The Romblon Provincial Health Office said there are enough COVID-19 vaccines for the town residents.
Justice Secretary Menardo Guevarra, meanwhile, said "A local ordinance compelling all residents within the territory of the LGU (local government unit) to get themselves vaccinated against COVID-19 may be enacted even without a national law on the matter."
"But like all other laws, and ordinances invoking police power, it may be challenged in court by anyone on the issued of reasonableness, among others," he added.
The Commission on Human Rights (CHR), in a statement, said in part "… when vaccines are scarce, any form of segregation between the vaccinated and unvaccinated may lead to undue discrimination."  — BAP, GMA News
Read more, click here: GMA News
7 Easy Ways To Make Extra Money At Home