- Advertisement -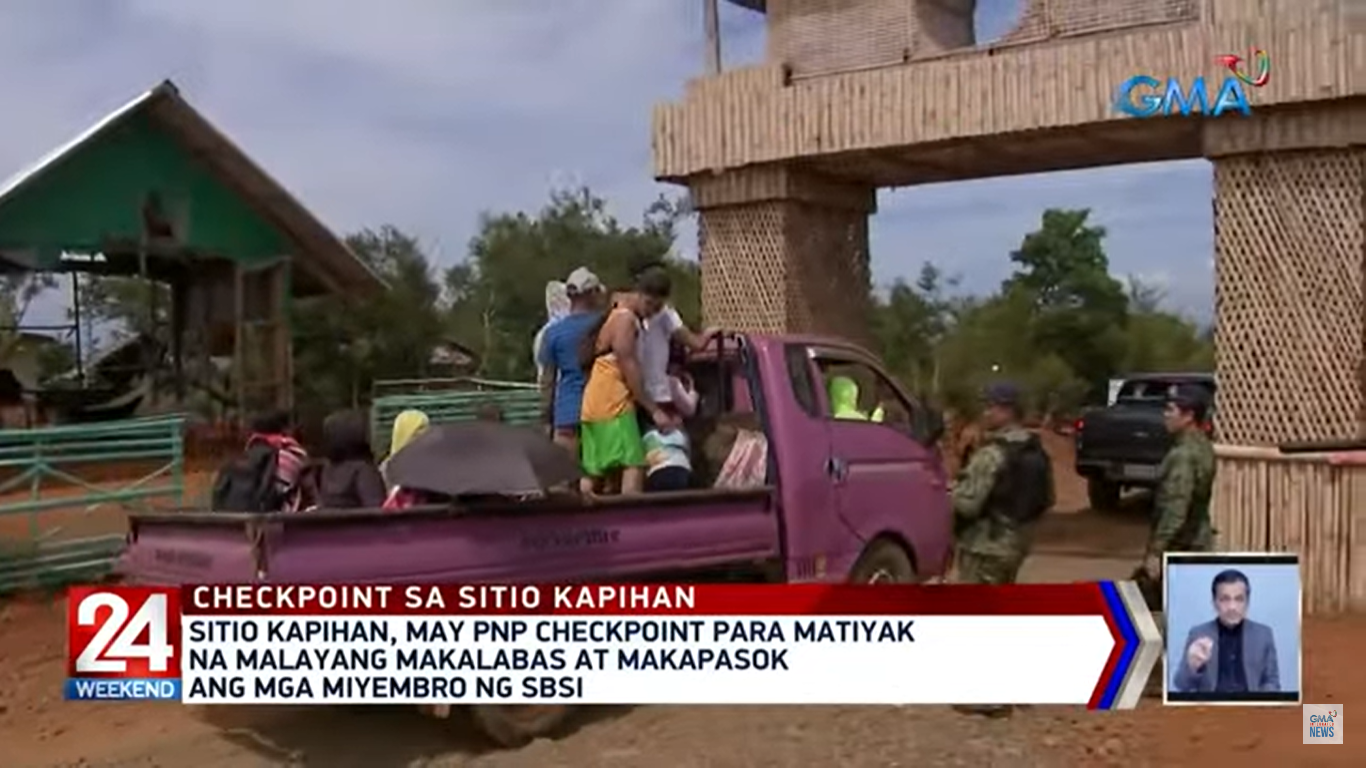 - Advertisement -
The Philippine National Police (PNP) has mounted a checkpoint at Sitio Kapihan in Socorro, Surigao del Norte.
According to a 24 Oras Weekend report by Marisol Abdurahman on Saturday, the PNP aimed to help members of Soccoro Bayanihan Services Inc. (SBSI) be able to move inside and outside of the area freely.
"Kailangan po mamaintain natin ang kaayusan. Alleged po nila na di sila makalabas before, so ngayon nakita na po natin na nakalabas na sila freely na walang intervention," said a police officer manning the checkpoint.
(We must maintain order here. The people had alleged they couldn't leave Sitio Kapihan, but they are now able to do so freely and without intervention.)
Some residents welcomed the police's move.
All 4,000 members of SBSI are currently residing in the 353-hectare Sitio Kapihan, a protected area located in the mountainous portion of Socorro town.
On Friday, the Department of Environment and Natural Resources (DENR) announced it had suspended its agreement with SBSI in managing a part of a protected area in Surigao del Norte.
In a statement, the DENR said it was investigating possible violations of the group on the terms and conditions of the Protected Area Community-Based Resource Management Agreement (PACBRMA).
In 2019, the DENR started its investigation on the group due to violations of the agreement.
These include the restriction of entry in the area, checkpoint setups, military-like training, resignation of teachers, uniformed personnel and barangay officials, as well as construction of structures within the area.
SBSI submitted its updated projects but the DENR rejected it due to non-compliance with certain provisions of the deal.
In 2021 and 2022, the DENR called the attention of the Socorro group on the recurring violations but it did not respond.
On Thursday, a Senate committee conducted a hearing on the alleged abuse and illegal activities of the supposed cult SBSI.
Its leader Jey Rence Quilario or Senior Agila and three other members were cited in contempt after repeatedly denying that child marriages took place in their group despite testimonies by victims. —Jiselle Anne Casucian/VBL, GMA Integrated News
Read more, click here: GMA News
7 Easy Ways To Make Extra Money At Home


Learn Trading and know Two Platform that easy to Start With