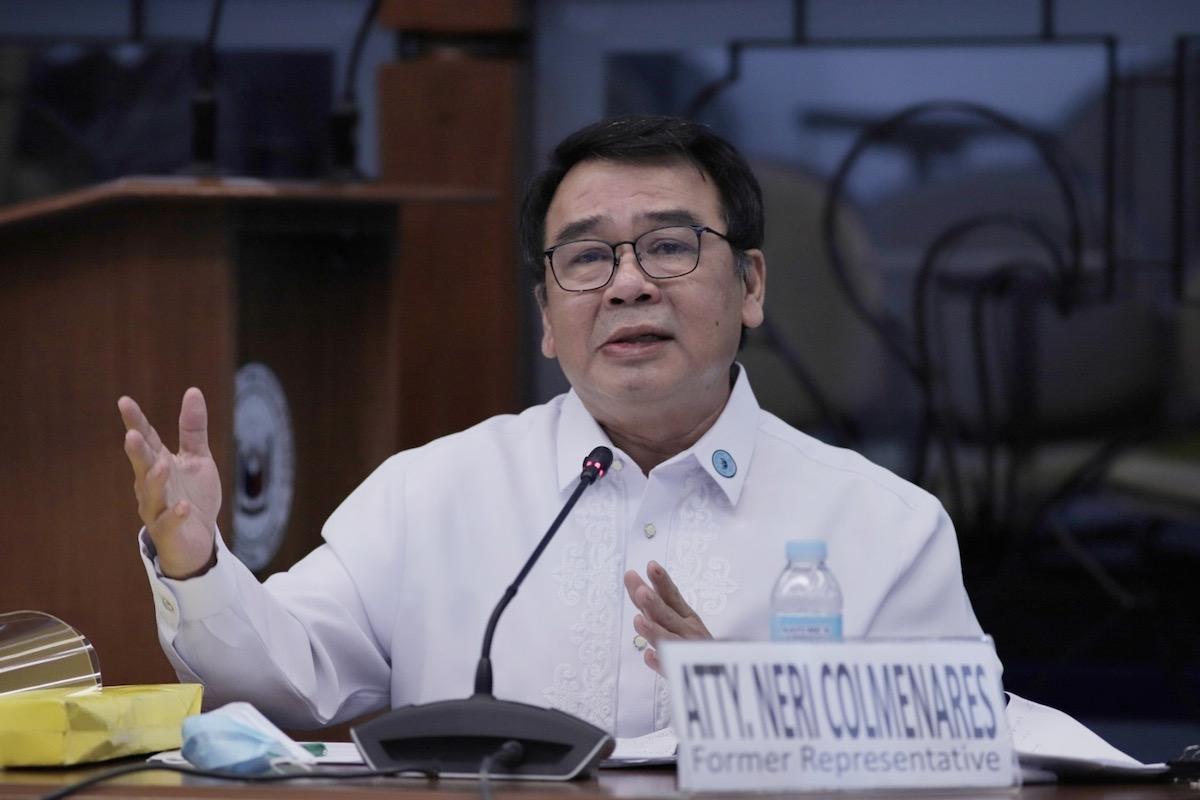 - Advertisement -
An opposition lawyer on Sunday said President Rodrigo Duterte's vice presidential bid to escape possible criminal charges is driven by personal interest.
At the oath-taking of the new PDP-Laban officials, Duterte said he will pursue the vice president post in the coming election if his critics continue to threaten him with criminal complaints after he steps down as president. 
- Advertisement -
In a statement, Bayan Muna chairman Neri Colmenares said Duterte's presidential bid to "escape imprisonment" showed that he is running for "self-serving personal interest."
"Sinabi niyang hindi siya takol makulong. Siungaling siya. Kung takot si Pres. Duterte na makasuhan at makulong, paano na lang ang mga pulis at mga opisyal na pinangakuan nya ng proteksyon at pardon?" Colmenares said.
(He said he is not afraid of imprisonment. He's a liar. If the President is scared of getting charged and detained, how much more for the policemen and officials whom he vowed to protect, and pardoned.)
Immunity for president as well as vice president was already removed from the 1987 Constitution, said Colmenares.
"While the 1973 Constitution during martial law expressly provided that the President and his subordinates are immune from suit, this immunity was dropped in the 1987 Constitution.  There is even no presidential immunity under the 1987 Constitution," Colmenares, who is also human rights lawyer, said.
Bayan Muna Representative Carlos Isagani Zarate, meanwhile, said Duterte's announcement is clear that the Chief Executive is escaping from accountability from the drug-related killings and other crimes during the administration.
"But, his statement is a false self-assurance just to pander himself and his allies," he added.
He also cited the case of former Vice President Jojo Binay who was sued for alleged graft which showed that the vice presidential post is impeachable but is not immune to lawsuit.
In another press statement, Gabriela Women's Party-list Representative Arlene Brosas said Duterte may still join the vice presidential race but he cannot run away from his "horrible crimes against Filipinos."
Former Supreme Court spokesman Theodore Te took to Twitter to disagree that Duterte is immune from charges if he runs for vice president.
"The VP is not immune from suit by law or by tradition. Non-issue. Non-story," he wrote on Saturday.
Retired International Criminal Court prosecutor Fatou Bensouda had asked the ICC to investigate the Duterte administration's drug war because she found that there is "reasonable basis to believe that crimes against humanity has been committed in the context of the drug war."
In her report, Bensouda cited police, human rights groups, media reports, and confidential sources in concluding that the drug war killings had a pattern of killing suspects who are not resisting arrest, with some even begging for their lives to be spared.
Duterte, however, claimed that the Rome Statute, which established the ICC is not part of domestic law.
"They will never have jurisdiction over my person, not in a million years," he added. —LBG, GMA News
Read more, click here: GMA News
7 Easy Ways To Make Extra Money At Home