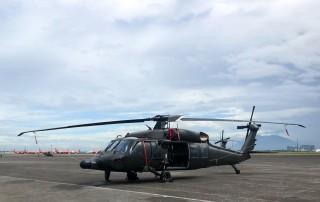 - Advertisement -
The Philippine Air Force (PAF) on Thursday said a S-70i Black Hawk Utility Helicopter of the 205th Tactical Helicopter Wing figured in an accident off Capas, Tarlac, during a night flight training on Wednesday.
In a statement, the PAF said the helicopter was earlier reported to be late from the estimated time of return to its station at Clark Air Base, Pampanga.
- Advertisement -
Search, retrieval, and recovery operations are ongoing.
"So far, no survivors have been found," the PAF said.
The identities of the concerned personnel will be provided as soon as the members of their families were informed, according to the PAF.
"We grieve for the loss. The PAF will conduct a thorough inquiry to determine the circumstances of this unfortunate incident," the PAF said.
For now, the PAF said all the other Blackhawks will not be flown until the investigation is finished.
According to PAF, "night flight proficiency trainings are part of the capabilities of the pilots and crew, in this case the Blackhawk S70i, prior their full deployment to assist our frontline units in their missions."
Although with inherent risks, this competency is vital and necessary for the transport and logistics requirements of Unified Commands." –KBK, GMA News
Read more, click here: GMA News
7 Easy Ways To Make Extra Money At Home