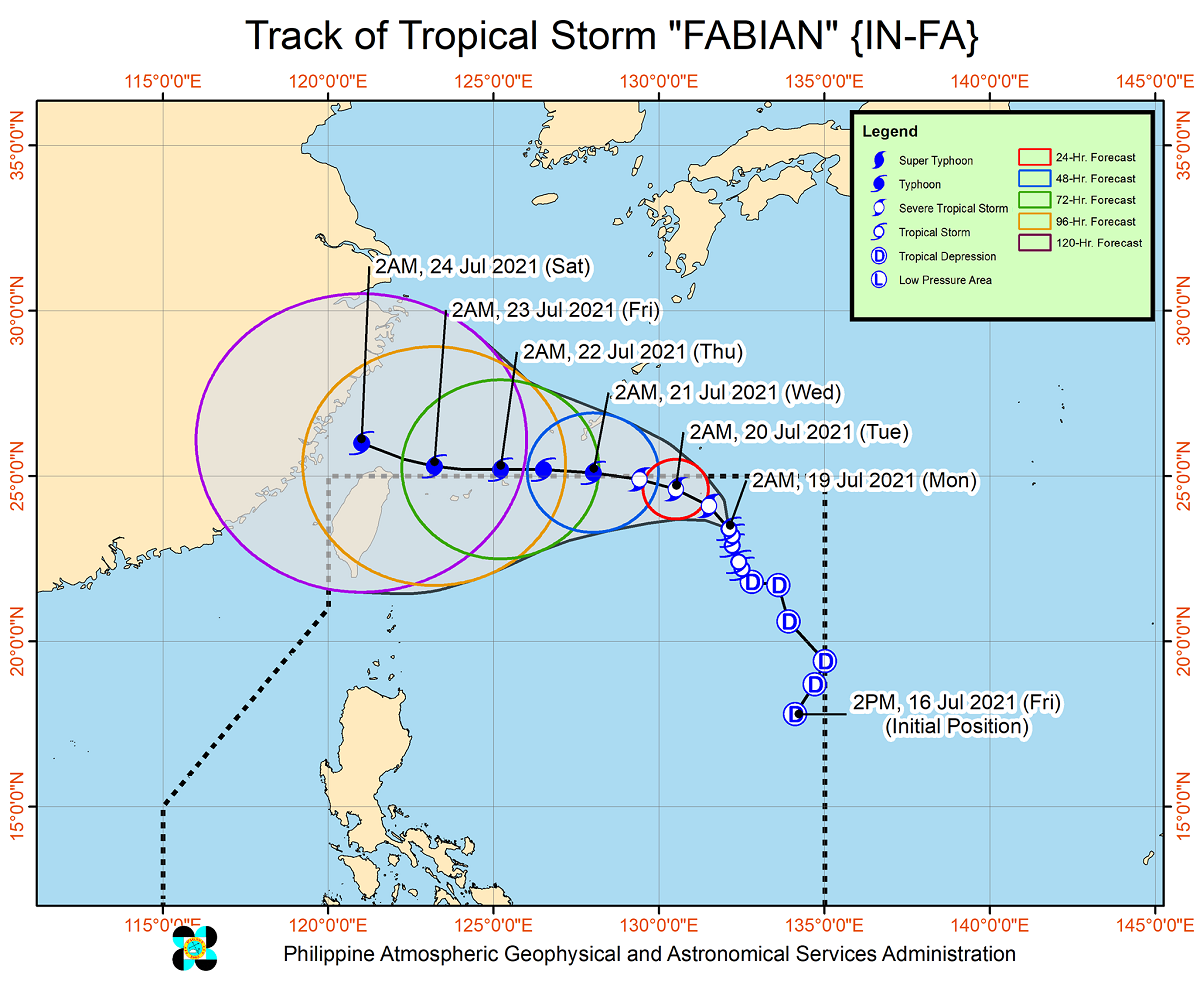 - Advertisement -
Tropical Storm Fabian has intensified into a severe tropical storm on Monday morning although it is not likely to make landfall, according to PAGASA's latest report.
In its 11 a.m., PAGASA said Fabian is not likely to bring heavy rainfall to any part of the country but is expected to enhance the southwest monsoon.
- Advertisement -
Also enhancing the southwest monsoon is a tropical storm spotted outside the Philippine Area of Responsibility, PAGASA said.
"Under the influence of the Southwest Monsoon that is being enhanced by "FABIAN" and the Tropical Storm estimated at 840 km West Northwest of Extreme Northern Luzon (outside the PAR) (20.9°N, 113.1°E), monsoon rains will be experienced in the next 24 hours over Ilocos Region, Zambales, Bataan, Occidental Mindoro, and Palawan," it said.
No Tropical Cyclone Wind Signal is currently in effect, PAGASA added.
As of 10 a.m., PAGASA said the center of Fabian was at 1,055 km east northeast of extreme Northern Luzon. It was packing maximum sustained winds of 95 km/h near the center, gustiness of up to 115 km/h, and central pressure of 985 hPa.
Fabian, which is moving northwestward at 15 km/h, is forecast to move generally west northwestward on Monday until Tuesday evening.
"The tropical cyclone may exit the Philippine Area of Responsibility (PAR) tomorrow evening or on Wednesday early morning," PAGASA said.
However, PAGASA said there is also a possibility of Fabian re-entering PAR if the southward shift in the orientation of its track continues. –KBK, GMA News
7 Easy Ways To Make Extra Money At Home