- Advertisement -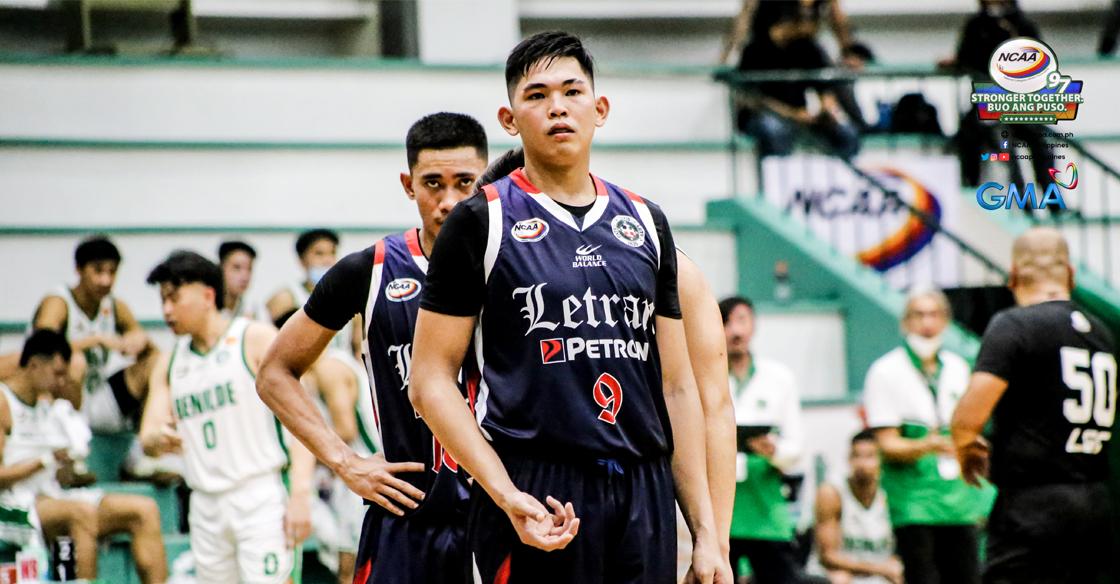 Week 1 of NCAA Season 97 is in the books and preseason favorites Letran and San Beda have surged ahead to take the early lead in the standings with identical 3-0 records. See how the 10 member schools have fared after the league's opening salvo:
1 Colegio de San Juan de Letran Knights (Week 1 record: 3-0)
The defending champion Knights were marked as preseason favorites and they have not disappointed. Rhenz Abando has been as good as advertised, leading the league in scoring, with 18 points per game, blocks, with 2.3 per game, and in plus-minus, as Letran has outscored opponents by +57 with him on the floor. Big guys Louie Sangalang and Jeo Ambohot have been stellar as well, landing in the Top 10 in both rebounding and field goal percentage. They have the best record in the league and the best point differential (+14.7) right now, making them deserving of the top spot.
2 San Beda University Red Lions (Week 1 record: 3-0)
San Beda is another early season favorite that has kept its record unblemished. The Red Lions offense has been humming, putting up the most points per game of any team in the NCAA so far. James Kwekuteye (14 ppg, tied for 4th in the league), expectedly, has been the lynchpin of the San Beda attack but they've gotten contributions from everywhere with players like Ralph Penuela, JV Gallego, JB Bahio, Damie Cuntapay, and others all having their chance to shine. It hasn't always been easy for the them, like in a four-point escape against EAC, but they are still a perfect 3-0 at the end of Week 1 and tied for the lead in the Season 97 standings.
3 Mapua University Cardinals (Week 1 record: 2-0)
Still unbeaten Mapua has emerged as one the best defensive teams of the season so far. The Cardinals held EAC to 67 points and JRU to just 56, allowing the fewest points per game through the first week of action. Warren Bonifacio (12.5 rebounds per game) is #3 in the league in boards and they have three different players in the top 10 in steals per game. Even top scorer Rence Nocum, a 6-foot-tall guard, has hustled his way to 7.5 rebounds and 1.5 blocks per game. If that defense continues to hold, and they can continue to hit big shots when it counts, Mapua can give itself a chance to keep in pace with the leaders.
4 De La Salle-College of Saint Benilde Blazers (Week 1 record: 2-1)
Saint Benilde may have opened the season with a loss, but given that it was only a four-point concession to the defending champs, even that can be taken as a positive. Since then, though, CSB has taken it up a notch with back-to-back wins against Lyceum and Arellano. Robi Nayve and Will Gozum have emerged over these last two games with the sweet-shooting guard averaging 18 points and the big man putting up 16 markers and 11.5 boards in the two wins. Nayve leads the NCAA in three-pointers made per contest with 2.3 makes, while shooting a 50-percent clip. He also has a plus-minus of +27 over three games, particularly impressive considering the team is only outscoring opponents by four points per game. The Blazers have some momentum now, and that's something they can build on.
5 San Sebastian College Recoletos Golden Stags (Week 1 record: 1-1)
With a few breaks going differently, the Stags could easily be looking at a 2-0 record instead of 1-1. Their only loss was a 65-63 heartbreaker to Arellano in a game they had the chance to win at the buzzer. JM Calma has been a steady presence, averaging 13.5 points, 9 rebounds, and 2 blocks — placing him in the top 10 in all of those categories. Ichie Altmirano and Rommel Calahat are both averaging double-digits in scoring as well. But they'll need some extra help from the rest of the roster if they want to kickstart their struggling offense, which is currently ranked second to last in points per game.
6 EAC Generals (Week 1 record: 1-2)
The Generals have been pretty competitive in every showing they've had so far. They were a tough out for Mapua in the first game and they gave San Beda a bit of a scare in the second, before they finally picked up their first win against Lyceum on Saturday. JP Maguliano (who missed most of their first game with an injury) and Marwin Taywan have been rock solid for EAC while King Gurtiza and Ralph Robin have showed out in stretches. Big man Allen Liwag has been huge as well, averaging 10.3 points, 12.7 rebounds and 2 blocks per contest as their interior presence. They've proven they can be dangerous, but now they're out to pick up a couple more wins as well.
7 Arellano University Chiefs (Week 1 record: 1-2)
Depending on how you look at it, Arellano University's luck is either really bad or really good. On one hand, they lost star player Justin Arana to what seemed like a season-ending injury in just the first assignment. On the other, he was back on the floor less than a week later, missing only one game after getting a second opinion. When Arana is on the floor, they're a different team as he contributes monstrous norms of 15 points, 13 rebounds, and 3.5 blocks in the games he has been available. Guys like Axel Doromal and Gelo Sablan have done well while Jordan Sta. Ana and Kobe Caballero can provide some extra firepower when called on, but the health of Arana will be the big factor on how well they'll do in the coming games.
8 Perpetual Help Altas (Week 1 record: 1-2)
The Altas have blown hot and cold in stretches this season. Kim Aurin exploded for 20 first half points in their season opener before going scoreless the rest of the game and struggling in the one after. Jielo Razon, who scored 33 big points in the first two games combined, was shut down completely for 0 points on 0-for-8 shooting vs Letran. Perpetual has the outside shooting to stick it to the best of them — Aurin, Razon and Jef Egan are all among the league-leaders in three-pointers made — but they'll need more consistency to stay right in the thick of the fight in this short elimination round.
9 LPU Pirates (Week 1 record: 0-3)
Lyceum hasn't had the start they wanted in NCAA Season 97 despite some standout performances from Enoch Valdez, who has averaged 14.7 points, 8.3 rebounds, and 2.3 steals in three contests. They play a specific style. With Valdez leading the NCAA in steals and JM Bravo not far behind, the Pirates pace the rest of the teams in fastbreak points and turnover points. Point guard Renzo Navarro also leads the league in assists. But these positives haven't yet translated into victories, though LPU came close in a razor-thin defeat to EAC in their most recent outing.
10 JRU Heavy Bombers (Week 1 record: 0-3)
JRU's defense has been solid but has not been enough to make up for their dismal offense, which has gone missing to start the tournament. The Heavy Bombers average only 55 points per game, 12 points lower than the closest competitor at 63 points per game, placing them dead-last in the category. Their field goal percentages in games against UPHSD, Mapua, and San Beda have been 23.8%, 32.5%, and 30.3%. That they nearly stole a game from the Cardinals is a credit to their hard-nosed defensive stands, but they need to hope that they can put this early season shooting slump behind them sooner rather than later.
—JMB, GMA News
7 Easy Ways To Make Extra Money At Home