- Advertisement -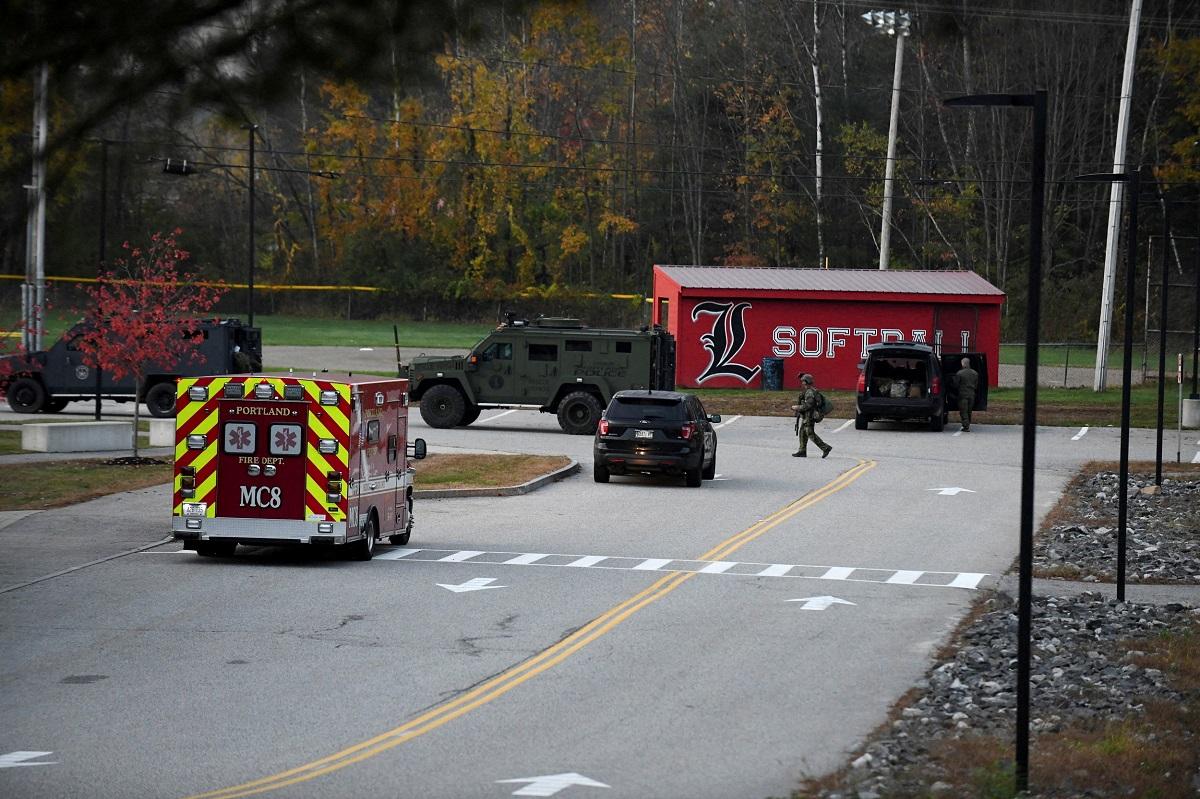 - Advertisement -
LEWISTON – Police in Maine on Friday lifted an order that had kept tens of thousands of people in their homes, while hundreds of officers continued their pursuit of the gunman suspected of killing 18 people at a bar and a bowling alley in Lewiston two days ago.
Authorities also officially released the names and ages of the victims for the first time, revealing that a cross section of Lewiston had been killed, including deaf people playing in a cornhole beanbag-throwing tournament, a father-and-son pair of bowlers, and a couple aged 76 and 73.
Another 13 people were wounded in the shootings.
The shelter-in-place order was imposed shortly after the shootings on Wednesday night, when police suspect that US Army reservist Robert R. Card, 40, opened fire first at the Just-In-Time Recreation bowling alley, and minutes later at Schemengees Bar & Grille Restaurant, which hosted Wednesday night cornhole games.
The shelter-in-place order, though it did not appear to have been strictly enforced, had shut down Lewiston, a city of about 38,000 people roughly 35 miles north of Portland, and nearby towns in Androscoggin County, the largely rural area rocked by the latest gun massacre in the United States.
With deer season opening on Saturday, hunting will be banned in four local towns until further notice, Mike Sauschuck, the Maine Department of Public Safety's commissioner, told a news conference. Deer hunting will be allowed as usual in the remainder of the state, he said.
Some people in the Lewiston area had been anxious at the thought of a lengthy shelter-in-place, which could have kept them out of work.
One place that remained open was the restaurant Best Thai II, offering patrons a place to eat and mix with others sharing the shock and grief.
"This place is like home to us, and I was gratified to see that they were open," said Maria, a 78-year-old Bath resident who declined to give her last name.
River searched
On Friday, the search for Card expanded to the Androscoggin River. Divers were deployed and robots and sonar were being used, local media reported.
Investigators focused on the river as the last known location of Card, whose white SUV was found abandoned at a boat launch. Public records show Card has at least one watercraft registered in his name, a 12-foot (3.6-meter), 155-horsepower vessel made by jet ski company Sea-Doo.
Card is known to like to hunt and fish and is a sergeant at a nearby US Army Reserve base. Law enforcement officials said he was temporarily committed to a mental health facility over the summer.
Officials have not revealed any suspected motive, and Sauschuck did not say what precisely police might be looking for under water.
Investigators also have been in contact with neighboring states and Canadian provinces, he said, but added, "There's no expectation at all that there's going to be some kind of a border checkpoint scenario."
Victims honored
Four of those killed belonged to the deaf community, Sauschuck said, asking television cameras to include the American sign language interpreter at the press conference in their frames. Nine deaf people were playing in a weekly tournament at Schemengees, the sister of one of the victims told the Lewiston Sun Journal.
Among them was Joshua Seal, 36, the director of interpreting services for the Pine Tree Society, a nonprofit organization aiding people with disabilities, the Sun Journal reported, citing Noel Sullivan, the group's president. Seal provided vital interpreting services for people isolated during the coronavirus pandemic, Sullivan said.
Stephen Vozella, 45, was a postal worker and active member of New England Deaf Cornhole, the group said on its Facebook page, adding that a moment of silence would be held at an upcoming tournament.
Bryan MacFarlane, 41, an avid motorcyclist, was also part of the deaf cornhole tournament at Schemengees, his sister Keri Brooks told the Sun Journal.
Bill Young, 44, and his 14-year-old son Aaron were shot and killed while bowling together, Bill's brother Rob Young told Reuters.
Husband and wife Bob Violette, 76, and Lucille Violette, 73, were also bowling together in a couples league when they were killed, the Sun Journal reported, citing his daughter-in-law, Cassandra Violette.
Tricia Asselin, 53, was a part-time worker at the bowling alley who was trying to call 911 when shot. Joseph Walker, 57, was a manager at Schemengees who stayed on the scene to help even though he could have escaped through a door near his office, his father, Leroy Walker, told Reuters on Friday.
"We were told that he picked up a butcher knife from the bar area where he was a lot of the time standing and went to attack the shooter," Leroy Walker said. The gunman then shot Joseph, known to his Dad as Joey, killing him instantly. —Reuters
Read more, click here: GMA News
7 Easy Ways To Make Extra Money At Home


Learn Trading and know Two Platform that easy to Start With