- Advertisement -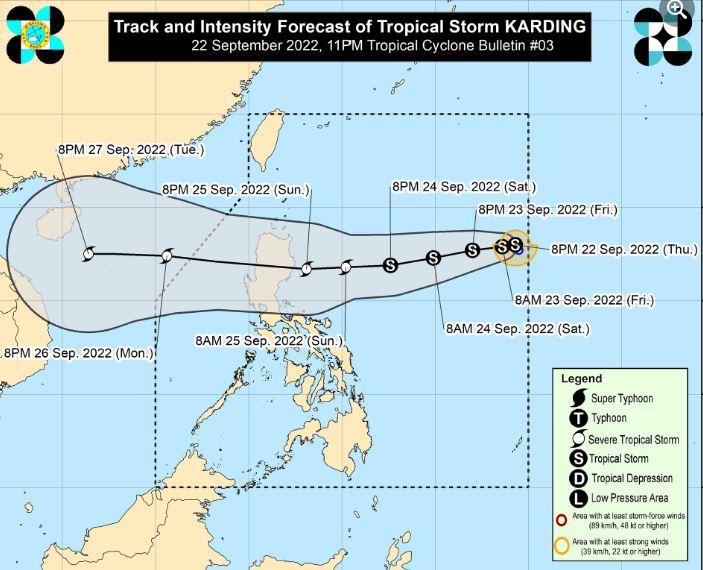 Tropical Storm Karding has maintained its strength as it moves westward over the Philippine Sea, PAGASA said on Thursday evening.
In its 11 p.m. bulletin, PAGASA said Karding is forecast to maintain its westward movement while accelerating until it makes landfall in the vicinity of the east coast of Northern or Central Luzon on Sunday.
"Afterwards, the center of Karding will traverse the rugged terrain of Northern Luzon before emerging over the West Philippine Sea on Monday," it said.
"This tropical cyclone is forecast to continue intensifying while moving over the Philippine Sea and may reach severe tropical storm category prior to landfall," it added.
Storm signals
PAGASA said there is a high likelihood that Tropical Cyclone Wind Signals will be hoisted over Northern and Central Luzon and some portions of Southern Luzon.
Areas in the eastern portion of Northern Luzon may be placed under TCWS No. 1 as early as Friday evening or Saturday morning while the highest possible wind signal that may be hoisted would be TCWS No. 3.
Moderate to rough seas up to 3.8 meters are expected over the seaboards of Northern and the Eastern seaboard of Central Luzon beginning Sunday.
Such conditions may be risky for those using small seacrafts. Mariners are advised to take precautionary measures when venturing out to sea and continue monitoring for updates, PAGASA added.—NB, GMA News