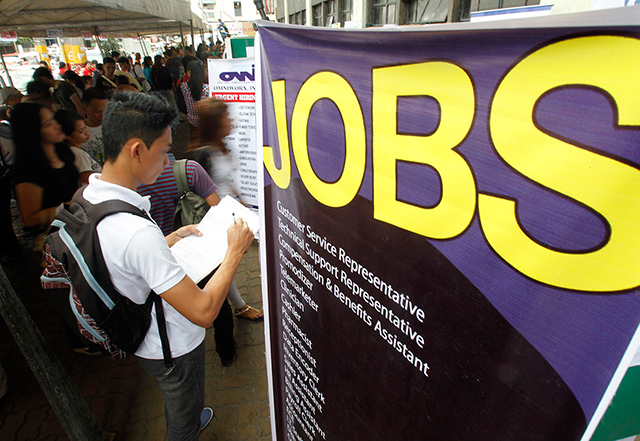 - Advertisement -
Around 12.2 million Filipinos were unemployed as of May, a survey conducted by the Social Weather Stations (SWS) showed.
SWS' April 28 to May 2 poll found adult joblessness at 25.8% (representing 12.2 million Filipinos), down 1.5 points compared to 27.3% (equivalent to 12.7 million) in November last year.
- Advertisement -
May's figure, however, is 8.3 points higher than the pre-pandemic level of 17.5% in December 2019. Joblessness hit a record-high 45.5% in July 2020 before making a steady decline.
Government data, meanwhile, showed the number of unemployed Filipinos grew to 4.14 million in April as key areas in the country such as Metro Manila reverted back to strict quarantine restrictions during the month.
Adults who are jobless consist of those who voluntarily left their old jobs, are seeking jobs for the first time, or lost their jobs due to economic circumstances beyond their control, the SWS said.
Joblessness fell in Balance Luzon from 32.7% in November 2020 to 24.2% in May 2021 while Metro Manila improved to 30.8% in May 2021 from 37.8% in November 2020.
However, it rose in the Visayas, from 19.1% in November 2020 to 28.7% in May 2021. It also went up in Mindanao, from 17% in November 2020 to 23% in May 2021.
Joblessness hardly changed among men, from 22.2% in November 2020 to 23.6% in May 2021.
By comparison, the unemployment rate among women dropped to 29% in May 2021 from 34.1% in November 2020.
"The resulting women-men joblessness gap of 5 points is the lowest since March 2004, when the women-men joblessness gap was just 3 points," the SWS said.
The independent pollster also found joblessness fell among the 25-to-34-year-olds and non-elementary graduates and elementary graduates, as well as in urban and rural areas.
The survey involved face-to-face interviews of 1,200 adults (18 years old and above), with sampling error margins of ±3% for national percentages and ±6% for Balance Luzon, Metro Manila, Visayas, and Mindanao.  The survey was non-commissioned.—LDF, GMA News
Read more, click here: GMA News
7 Easy Ways To Make Extra Money At Home