- Advertisement -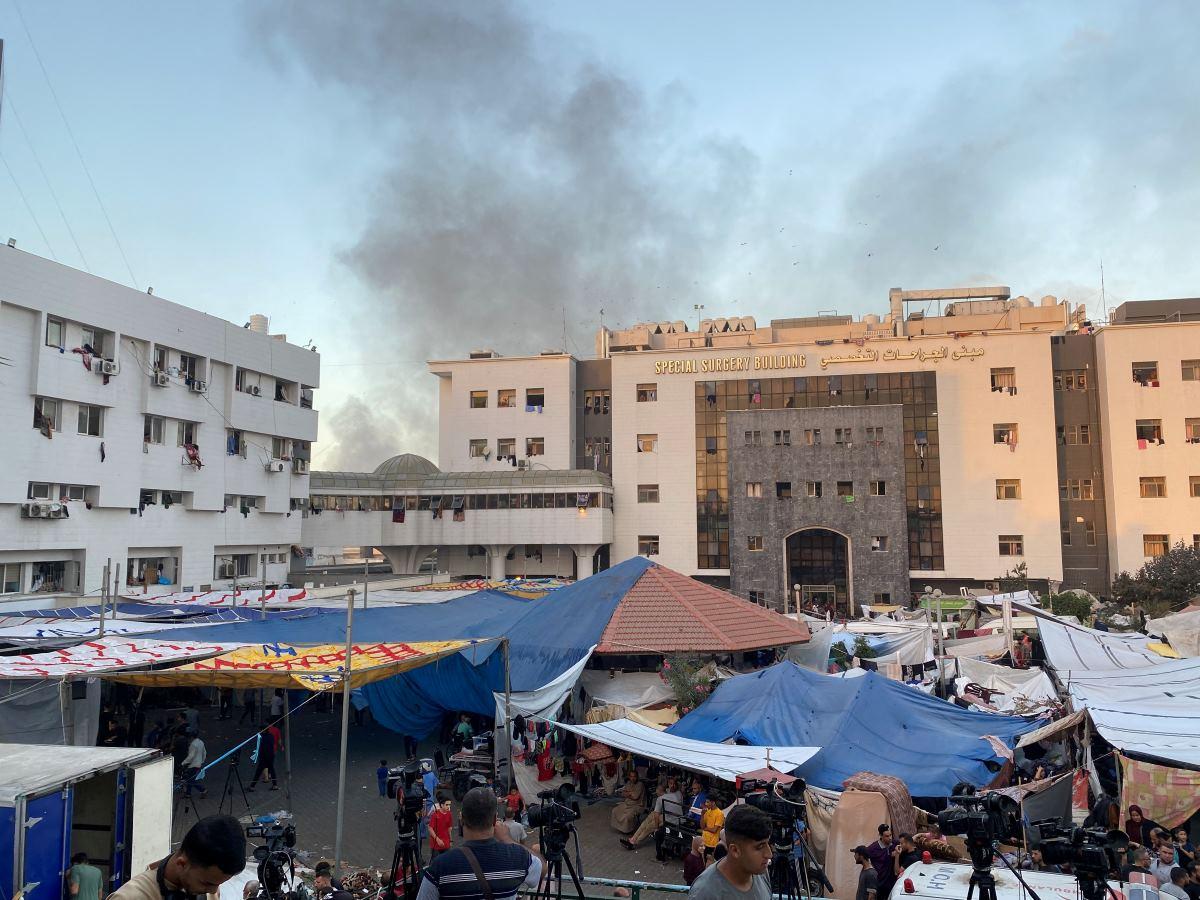 - Advertisement -
GAZA — The Israeli military said it was carrying out a raid on Wednesday against Palestinian Hamas militants in Al Shifa Hospital, the Gaza Strip's biggest hospital, and urged them all to surrender.
Less than an hour earlier, around 1 a.m. local time (2300 GMT), a Gaza health ministry spokesman said Israel had told officials in the enclave that it would raid the Shifa hospital complex "in the coming minutes."
Dr. Munir al-Bursh, director-general of the Gaza health ministry, told Al Jazeera television that Israeli forces had raided the western side of the medical complex. "There are big explosions and dust entered the areas where we are. We believe an explosion occurred inside the hospital," Bursh said.
The fate of Al Shifa has become a focus of international alarm because of worsening conditions in the facility in recent days with global calls for a humanitarian ceasefire after five weeks of an Israeli assault on Gaza.
In a statement, the Israel Defense Forces (IDF) said: "Based on intelligence information and an operational necessity, IDF forces are carrying out a precise and targeted operation against Hamas in a specified area in the Shifa hospital."
The military added: "The IDF forces include medical teams and Arabic speakers, who have undergone specified training to prepare for this complex and sensitive environment, with the intent that no harm is caused to the civilians."
Israel has said that Hamas has a command center underneath Al Shifa and uses the hospital and tunnels beneath it to conceal military operations and to hold hostages. Hamas denies it.
Israeli army spokesman Lieutenant Colonel Peter Lerner told CNN the hospital and compound were for Hamas "a central hub of their operations, perhaps even the beating heart and maybe even a center of gravity."
The US said on Tuesday that its own intelligence supported Israel's conclusions.
Hamas said on Wednesday that US announcement had effectively given a "green light" for Israel to raid the hospital. The group said it held Israel and US President Joe Biden fully responsible for the operation.
Israeli forces have waged fierce street battles against Hamas fighters over the past 10 days before advancing into the center of Gaza City and surrounding Al Shifa.
Israel has sworn to destroy Hamas in retaliation for the militants' cross-border assault into Israel on Oct 7. Israel says Hamas killed 1,200 people in the rampage and took more than 240 hostage.
In the West Bank, a separate Palestinian enclave not controlled by Hamas, Palestinian Authority Health Minister Mai Alkaila said Israel was "committing a new crime against humanity, medical staff and patients by besieging" Al Shifa.
"We hold the occupation forces fully responsible for the lives of the medical staff, patients and displaced people in Al Shifa," Alkaila said in a statement.
Dire conditions
Hamas says 650 patients and 5,000 to 7,000 other civilians are trapped inside the hospital grounds, under constant fire from Israeli snipers and drones. Amid shortages of fuel, water and supplies, it says 40 patients have died in recent days.
Thirty-six babies are left from the neo-natal ward after three died. Without fuel for generators to power incubators, the babies were being kept as warm as possible, lined up eight to a bed.
Palestinians trapped in the hospital dug a mass grave on Tuesday to bury patients who died and no plan was in place to evacuate babies despite Israel announcing an offer to send portable incubators, Ashraf Al-Qidra, Gaza's health ministry spokesman, said.
Qidra said there were about 100 bodies decomposing inside and no way to get them out.
UN Secretary-General Antonio Guterres was deeply disturbed by the "dramatic loss of life" in the hospitals, his spokesman said. "In the name of humanity, the secretary-general calls for an immediate humanitarian ceasefire," the spokesman told reporters.
Medical officials in Hamas-run Gaza say more than 11,000 people are confirmed dead from Israeli strikes, around 40% of them children, and countless others trapped under rubble.
Around two-thirds of Gaza's 2.3 million people have been made homeless, unable to escape the territory where food, fuel, fresh water and medical supplies are running out.
International law
Israel's move toward Shifa hospital has raised questions about how it would interpret international laws on protection of medical facilities and the thousands of displaced people sheltering there, UN human rights officials have said.
Hospitals are protected buildings under international humanitarian law. But allegations that Shifa is also being used for military purposes complicated the situation because that would also breach international law, UN officials have said.
Medical units used for acts harmful to the enemy, and which have ignored a warning to stop doing so, lose their special protection under international law.
Omar Shakir, Israel and Palestine director for Human Rights Watch, said before Israel's raid that even if Hamas was proven to be using hospitals to conduct military operations, international law required that effective warnings be given before attacks.
This meant people there needed a safe place to go and a safe way to get there, Shakir said. "It's very alarming because you have to remember hospitals in Gaza are housing tens of thousands of displaced persons."
Israel said in its statement on Wednesday that it had given Gaza authorities 12 hours to cease military activities within the hospital. "Unfortunately, it did not," the military statement said.
International Criminal Court prosecutor Karim Khan said in an Oct. 30 statement on attacks on protected sites such as hospitals that Israel would also "need to demonstrate the proper application of the principles of distinction, precaution and of proportionality."
Although protection under international law could be lost, he said, "the burden of proving that the protective status is lost rests with those who fire the gun, the missile or the rocket in question." — Reuters
Read more, click here: GMA News
7 Easy Ways To Make Extra Money At Home


Learn Trading and know Two Platform that easy to Start With