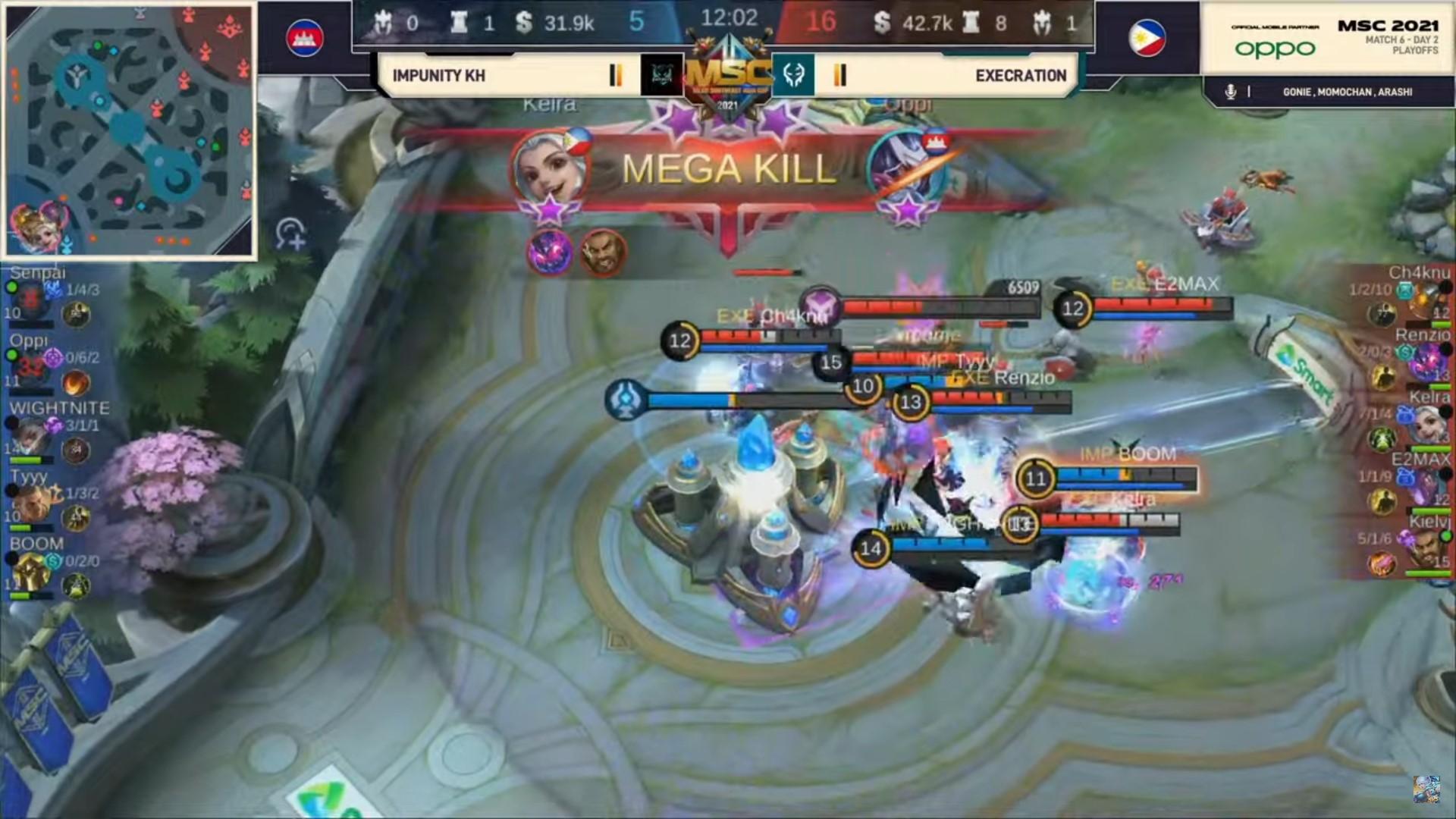 - Advertisement -
Execration once again completed a dramatic come-from-behind win, this time against Impunity KH, 2-1, to book their slot in the lower bracket semifinals of the Mobile Legends: Bang Bang Southeast Asian Cup (MSC) 2021 on Saturday.
They will be facing RSG Malaysia for a slot in the lower bracket finals on Sunday.
- Advertisement -
Impunity took the initiative in Game 1 early and established a 4k gold lead as early as the 4th minute behind a 10-2 kill advantage. The lead ballooned to 6k gold by the 7th minute with a 15-3 romp behind Oppi's (Benedetta) 6-0-3 KDA.
Despite the huge hole though, Execration held on and extended the game to the late game which was the strength of their draft. And it looked like Execration had it in the bag until a 22nd minute midlane skirmish was taken advantage by Oppi to sneak into the Execration Base Turret and win the game, despite Impunity losing the preceding clash with a 4-1 exchange.
With their backs against the wall, Execration opened Game 2 with guns blazing as they cruised to a 6-0 kill lead and a 3k gold lead by the third minute led by James "E2MAX" Caidic's (Selena) 2-0-4 KDA.
After taking down the inhibitor turret courtesy of a 9th minute lord take, Execration completed a 5-0 wipeout in the 12th minute as they fought a testament win with a 25-4 kill lead, spearheaded by Kiel "Keilvj" Hernandez's Lancelot who scored a flawless 11-0-5 KDA.
Execration carried the momentum in Game 3 as they took the lead early and never let go. They converted the early game lead into a lord take in the 10th minute and completed a 4-1 wipe in the lord clash which took the fight away from their Cambodian rivals in just 12 minutes.
—JMB, GMA News
7 Easy Ways To Make Extra Money At Home