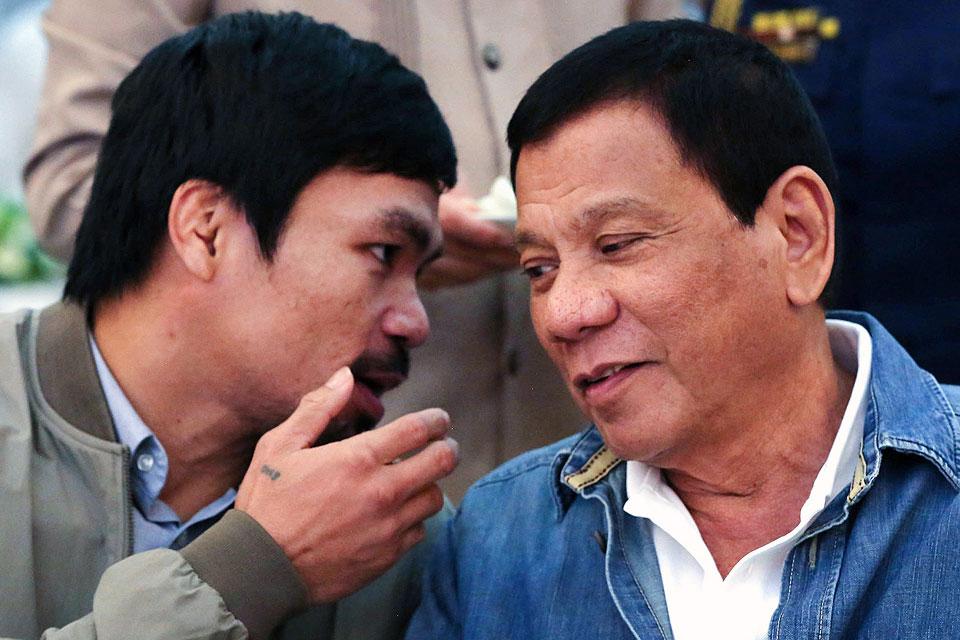 - Advertisement -
President Rodrigo Duterte on Monday night lashed out at Senator Manny Pacquiao after the latter said that corruption has worsened under the Duterte administration.
In his weekly address to the nation, Duterte dared Pacquiao to identify the corrupt agencies and he will do something about it.
- Advertisement -
"Si Pacquiao salita nang salita na three times daw tayong mas corrupt so I am challenging him, ituro mo ang opisina na corrupt at ako na ang bahala within one week may gawin ako," Duterte said.
"'Di ba ang sabi ko noon if you come to know that there is corruption, let me know. Give me the office. Ganoon ang dapat ginawa mo (Pacquiao)… Wala ka namang sinabi all these years puro ka praises nang praises sa'kin tapos ngayon sabihin mo corrupt," he added.
The president also said every administration "will have a share of the problem of corruption."
"Do not ever think that if you will win as president na wala nang corruption dito sa Pilipinas," Duterte told Pacquiao.
"And for your dream of giving everybody houses in six years time, just like what Senator Enrile said, good luck na lang. You must be dreaming," he added.
Duterte said he would campaign against Pacquiao if the senator would fail to identify the corrupt officials under in the administration.
"If you fail to do that, I will campaign against you because you're not doing your duty. Do it. If not, I will just tell the people, 'Do not vote for Pacquiao because he is a liar,'" Duterte said.
"I put you on notice, isasabi ko lahat at kakalabanin kita (sa) panahon ng election. 'Pag hindi, you'll just be another son of a b*tch playing politics," Duterte added.
Duterte has previously reproached Pacquiao for criticizing his stand on the West Philippine Sea.
Pacquiao is the current president of the ruling party PDP-Laban while Duterte is the chairman. —NB, GMA News
Read more, click here: GMA News
7 Easy Ways To Make Extra Money At Home