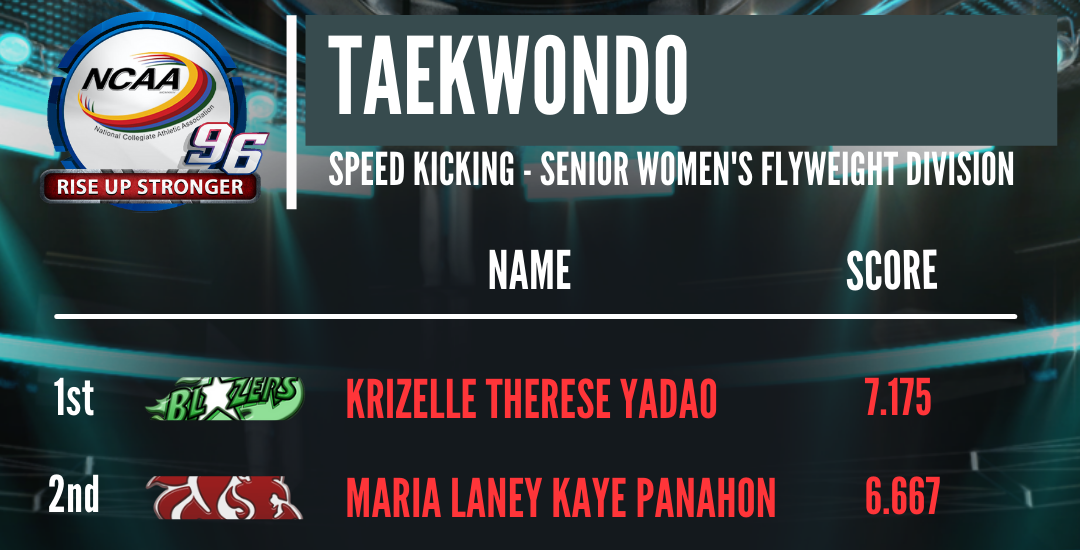 - Advertisement -
The College of Saint Benilde continued to prove it houses some of the best taekwondo jins in the NCAA.
CSB's Krizelle Therese Yadao on Thursday emerged as the gold medalist of the women's speed kicking flyweight division after scoring an impressive 7.175 points.
- Advertisement -
The 21-year-old student-athlete topped the event, besting five other competitors joined.
Maria Laney Kaye Panahon of the San Beda University tallied 6.667 markers to bag the silver medal while Twinkle Angela Bokingkito of the San Sebastian College-Recoletos settled for a bronze medal after her 6.325 output.
Paula Julia Alfon of the Arellano University (6.317), Stephanie Shane Ashley Arana of host Letran (6.250), and Ria Anne Calasara (6.150) were the other participants.
On Wednesday, Jose Rizal University's Emie Fernandez ruled the women's finweight division after scoring 7.008 points.
CSB had also copped numerous gold medals in the men's and juniors' divisions of the speed kicking event.
Watch the exciting games on "Rise Up Stronger: NCAA Season 96" on GTV which airs every weekday (3:00 p.m.), Saturdays (4:30 p.m.), and Sundays (5:05 p.m.) on GTV.
—MGP, GMA News
7 Easy Ways To Make Extra Money At Home