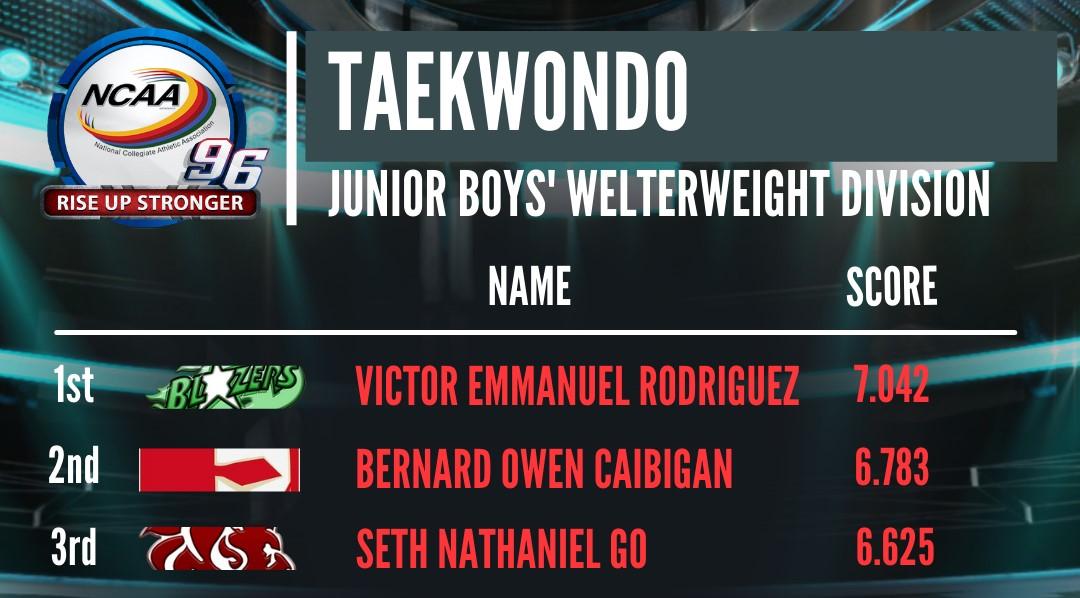 - Advertisement -
The College of Saint Benilde and San Beda University struck gold in the continuation of NCAA Season 96 speed kicking competition on Sunday.
Victor Emmanuel Rodriguez of CSB ruled the juniors welterweight division after scoring 7.042 points in the event where he bested seven other participants.
- Advertisement -
Bernardo Owen Caibigan of the Emilio Aguinaldo College tallied 6.783 to settle for the silver medal while Seth Nathaniel Go of the San Beda University took home the bronze after getting 6.625 markers. 
Meanwhile, after falling short in the welterweight division, SBU made sure to bag the gold plum in middleweight rank.
Red Lions' Louell Ivannerich Mamaclay toppled five opponents after he scored 6.500 for the gold medal while John Cris Samson of EAC came second with his 6.458 points. Javier Dexter Macasaet, on the other hand, wound up in third place after finishing with 6.383.
Watch the exciting games on 'Rise Up Stronger: NCAA Season 96' on GTV which airs every weekday (3:00 p.m.), Saturdays (4:30 p.m.), and Sundays (5:05 p.m.) on GTV.
—Bea Micaller/JMB, GMA News
7 Easy Ways To Make Extra Money At Home