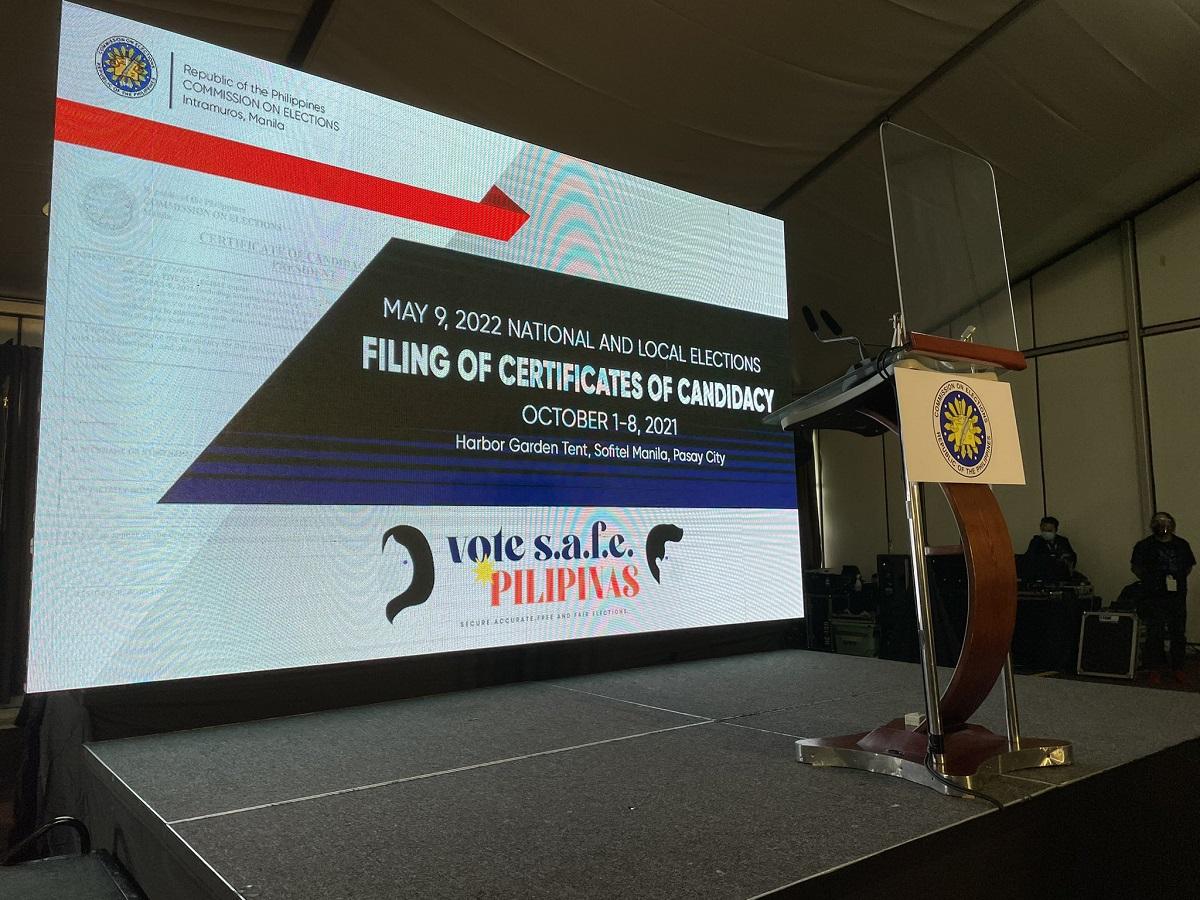 - Advertisement -
As anticipated, fewer aspirants filed their Eleksyon 2022 certificates of candidacies at the start of the filing period for COCs due to COVID-19 pandemic restrictions.
The Commission on Elections on Friday afternoon wrapped the start of the COC filing with 23 national post aspirants: six filed their candidacies for president, three for vice president, and 14 for senators.
- Advertisement -
Meanwhile, 18 partylists filed their respective COCs.
Unlike the usual fiesta-like scenario outside the Comelec's headquarters in Intramuros, Manila, this year's first day of COC filing was subdued compared to the pre-pandemic setting.
Candidates were only allowed to bring three companions at most during the filing. All of them needed to present a negative COVID-19 result before they were allowed to enter the Harbor Garden Tent inside the Sofitel Philippine Plaza Manila compound in Pasay City.
While this year's COC filing seems to be more controlled than the previous years, Philippine politics never fails to surprise.
Among the major filings reported on Friday morning was Senator Manny Pacquiao's choice for vice president.
Pacquiao was the first presidential aspirant who filed his COC at the Sofitel tent. He had a motorcade before going to the filing venue.
Moments before he entered the venue to submit his documents, Pacquiao announced that Buhay Rep. Lito Atienza would be his running-mate.
The retired boxing icon also announced that his presidential bid would be under the banner of the Cebu-based PROMDI party and not PDP-Laban, in which he has an ongoing rift with Energy Secretary Alfonso Cusi's faction.
President Rodrigo Duterte was aligned with the Cusi faction.
Big names
Apart from Pacquiao and Atienza, Deputy Speaker and Antique Rep. Loren Legarda were among the known politicians who came early to the venue.
Legarda, who will seek a Senate comeback in Eleksyon 2022, became the first to file her COC for those seeking national posts in the 2022 polls.
She was followed by the COC filing of Sorsogon Governor Francis Escudero, who was represented by his lawyer, and former governor Lutgardo Barbo, the lone senatorial candidate of the PDP-Laban faction led by Pacquiao.
Senate reelectionist, Risa Hontiveros of Akbayan, also filed her COC on Friday afternoon, hoping that "Dutertismo" would end in next year's polls.
Unfamiliar
The first day of COC filing also saw many unfamiliar names with a cardiologist, a supposed "world's top scientist," and a supporter of the late dictator Ferdinand Marcos. They were all seeking the presidential post.
The list of Senate aspirants was also filled with unknown personalities. Among them was a security guard who wanted to continue President Duterte's advocacies.
Apart from national post aspirants, known partylists also spearheaded the filing of their respective COCs.
The first one to file was AGAP partylist. They were followed by some familiar groups such as Kabayan, An Waray, 1-PACMAN, ACT-CIS, PBA, Ang Probinsyano, and COOP-NATCCO, among others.
Local government posts
Outside the Sofitel tent, aspirants of local government posts also filed their COCs.
Among the local officials who filed their COCs were Pasig City Mayor Vico Sotto, Muntinlupa Rep. Ruffy Biazon, and Valenzuela City Rep. Wes Gatchalian.
Overall, Comelec spokesperson James Jimenez said the first day of COC filing was "peaceful and organized."
He likewise reported that health and safety protocols were strictly observed within the filing venues and no congregation of supporters was seen near the Comelec offices.
Jimenez told the media that the poll body had expected fewer candidates on the first day of COC filing, explaining that aspirants tend to cluster toward the end of the filing period.
He also noted that some filers considered October 7 and 8 as "auspicious" dates for their COC filing.
The COC filing will be open to all aspirants until October 8, 2021. — DVM, GMA News
Read more, click here: GMA News
7 Easy Ways To Make Extra Money At Home