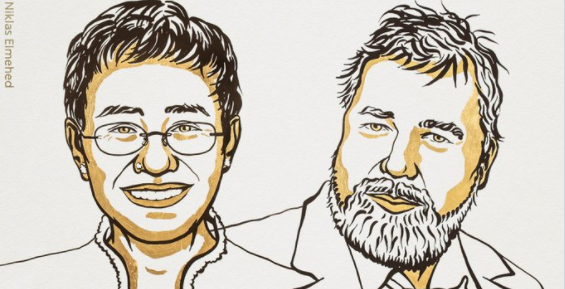 - Advertisement -
World leaders praised journalists Maria Ressa and Dmitry Muratov for winning 2021's Nobel Peace Prize, citing their courage to fight for freedom of expression in their countries.
United States President Joe Biden congratulated the journalists, saying, "they have pursued the facts – tirelessly and fearlessly."
- Advertisement -
"Ressa, Muratov, and journalists like them all around the world are on the front lines of a global battle for the very idea of the truth, and I, along with people everywhere, am grateful for their groundbreaking work to 'hold the line,' as Ressa so often says," Biden said in a statement on Friday.
Biden also applauded the Nobel Committee for honoring Ressa and Muratov's work in bringing greater attention to the increasing pressure on journalists and freedom of expression around the world.
United Nations Secretary-General Antonio Guterres also congratulated Ressa and Muratov, emphasizing that a free press was essential for "peace, justice, sustainable development, and human rights."
"As we congratulate the award winners, let us reaffirm the right to press freedom, recognize the fundamental role of journalists and reinforce efforts at every level to support a free, independent, and diverse media," Guterres said in his statement.
Meanwhile, Canadian Prime Minister Justin Trudeau also celebrated the journalists' win.
"Congratulations, @MariaRessa and Dmitry Muratov. Free, independent, and fact-based journalism is more important than ever – and Canada will continue to champion press freedom and freedom of expression, both here at home and around the world," Trudeau wrote in a Twitter post.
Josep Borrell Fontelles, High Representative of the European Union for Foreign Affairs, has acknowledged the journalists' efforts to safeguard the freedom of expression.
"Your efforts are indeed key to safeguard freedom of expression, and the work of journalists and free speech activists is a cornerstone for democracy and peace around the globe," Fontelles said on Twitter.
German Ambassador to the Philippines Anke Reiffenstuel honored Ressa for her courageous work as a journalist.
"Congratulations! @mariaressa! Honoring you with this highest award underlines the importance of press freedom worldwide, and how relevant the work of courageous journalists is for peace," Reiffenstuel tweeted.
Ressa and Muratov were honored "for their efforts to safeguard freedom of expression, which is a precondition for democracy and lasting peace," Berit Reiss-Andersen, chairwoman of the Norwegian Nobel Committee, said.
Ressa and Rappler have also documented how social media is being used to spread fake news, harass opponents and manipulate public discourse.
The journalist, who also holds US citizenship, is currently on bail pending an appeal against a conviction last year in a cyber libel case, for which she faces up to six years in prison.
The Peace Prize is the only Nobel to be awarded in the Norwegian capital. — DVM, GMA News
Read more, click here: GMA News
7 Easy Ways To Make Extra Money At Home