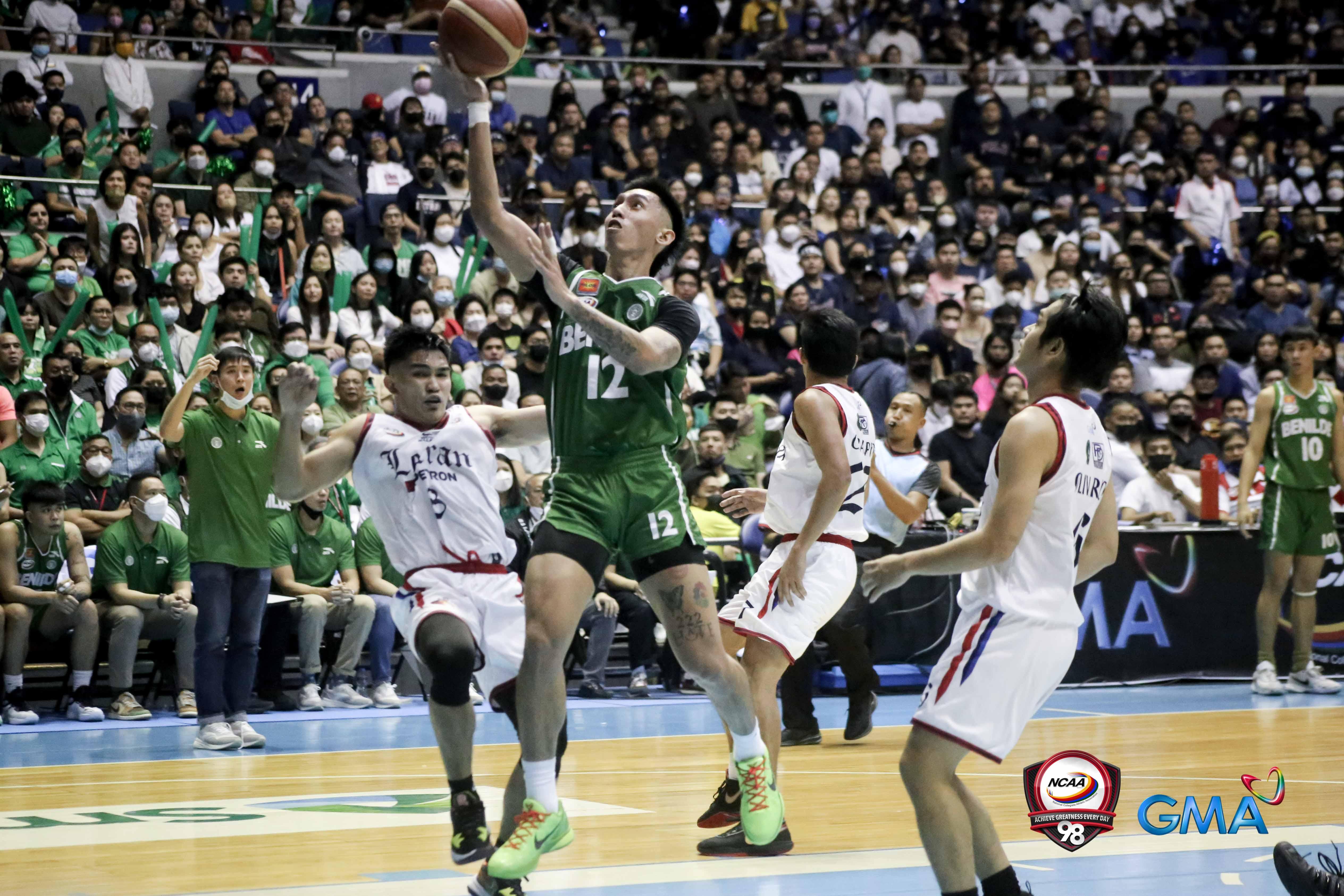 - Advertisement -
De La Salle-College of Saint Benilde lived to fight another day after winning Game 2 of their best-of-three finals series against Colegio de San Juan de Letran, 76-71, in NCAA Season 98 on Sunday.
Benilde, which is looking to bag its first title after more than two decades, will look to stun the defending back-to-back champion Letran come Game 3 next Sunday, December 18.
Benilde trailed by double-digits at the half but turned the game around with a 30-14 third quarter led by Miggy Corteza, who scored 14 of his game-high 21 points in that quarter alone.
The game was tied at 71-apiece with 1:54 remaining, but all the big plays were made by the Blazers' side.
Will Gozum drove hard for a lefty finish to put Benilde ahead, 73-71, with 55 seconds left while Migs Oczon knocked down a tough turnaround jumper to make it 75-71 with 20 ticks remaining.
Jimboy Pasturan put the finishing touches as he trooped to the free throw line in the dying seconds, making one and grabbing the offensive board off the other as time ran out.
Corteza finished with 21 points, 10 rebounds, and four assists while Gozum, who was named NCAA Season 98 MVP earlier in the day, also logged 21 points and 10 boards alongside three blocks.
Brent Paraiso led Letran with 16 points.
It was the Blazers' first win against the Knights in four matchups this season, including two elimination round matches and Game 1 of the Finals last Sunday.
The Blazers were able to pull off the win against an undermanned Letran squad, which had to play without Fran Yu, who was disqualified halfway through the second period, as well as suspended players Kobe Monje and Kyle Tolentino.
The scores:
Benilde 76 – Corteza 21, Gozum 21, Oczon 15, Nayve 10, Sangco 3, Pasturan 3, Carlos 3, Cullar 0, Marcos 0, Davis 0, Lepalam 0, Lim 0, Flores 0.
Letran 71 – Paraiso 16, Sangalang 11, Reyson 11, Caralipio 9, Santos 6, Yu 6, Javillonar 5, Olivario 4, Ariar 3, Guarinio 0, Go 0.
Quarters: 20-23, 34-45, 64-59, 76-71.
—JMB, GMA Integrated News
7 Easy Ways To Make Extra Money At Home