- Advertisement -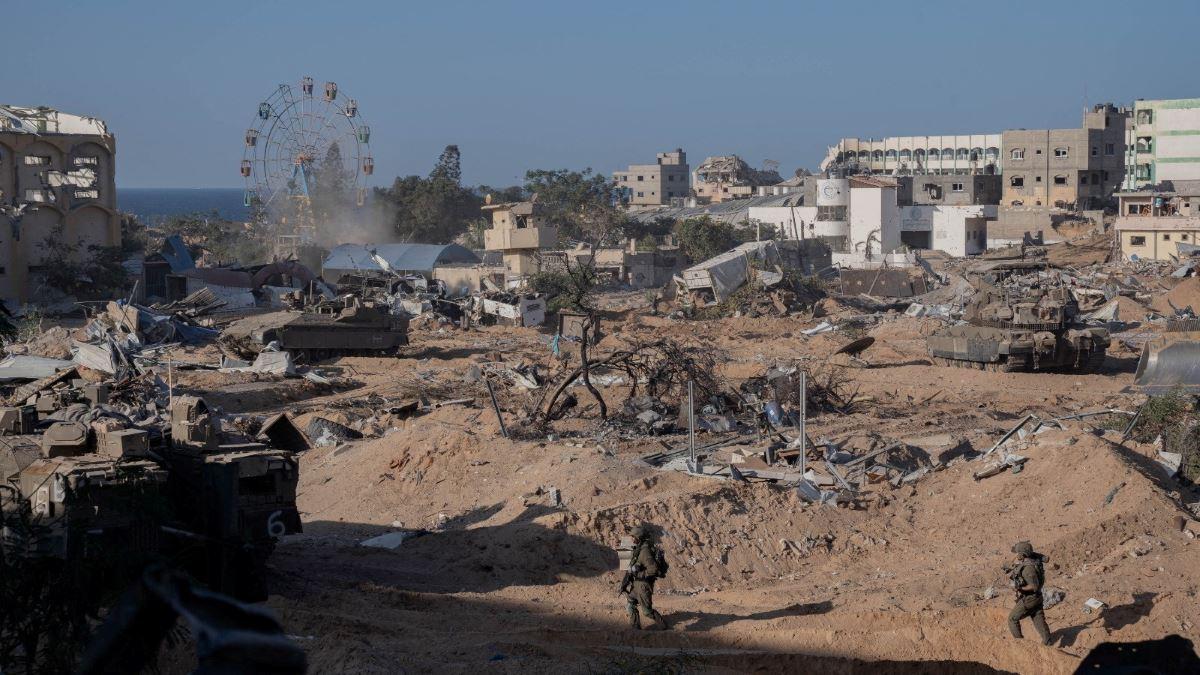 - Advertisement -
GAZA/JERUSALEM – Israel's military said it was ready to evacuate babies from Gaza's largest hospital on Sunday, where Palestinian officials said two newborns died and dozens more were at risk after fuel ran out amid intense fighting in the area.
As the humanitarian situation worsened, Gaza's border authority said the Rafah crossing into Egypt would reopen on Sunday for foreign passport holders after closing on Friday.
Hamas said it had completely or partially destroyed more than 160 Israeli military targets in Gaza, including more than 25 vehicles in the past 48 hours. An Israeli military spokesperson said Hamas had lost control of northern Gaza.
At a news conference late on Saturday, Israeli Prime Minister Benjamin Netanyahu announced the deaths of five more Israeli soldiers in Gaza. The Israeli military said 46 had been killed since its ground operations there began.
Reports of possible hostage deal
Israel's three major TV news channels, without citing named sources, said there was some progress toward a deal to free hostages held by Hamas in Gaza.
Netanyahu said he would not discuss details of any possible deal, which according to N12 News would involve 50 to 100 women, children and elderly being released in stages during a three to five day pause in fighting.
According to the reports, Israel would release women and minor Palestinian prisoners from its jails and consider letting fuel in to Gaza, while reserving the right to resume fighting after the deal.
"When we have something concrete to say then we will update the families and bring it to the government," Netanyahu said. "Until then silence would be best."
In Tel Aviv, thousands joined a rally to support families of the hostages.
Gaza residents said Israeli troops, who went to war to eliminate Hamas after its bloody cross-border assault on Oct. 7, had been clashing with Hamas gunmen all night in and around Gaza City where the Al Shifa hospital, Gaza's largest, is located.
Ashraf Al-Qidra, who represents the health ministry in Hamas-controlled Gaza, said the hospital suspended operations after fuel ran out. He said two babies had died in an incubator as a result. He said there were 45 babies in total.
He said Israeli shelling killed a patient in intensive care and that Israeli snipers on rooftops fired into the medical complex from time to time, limiting people's ability to move.
"We are besieged inside the Al Shifa Medical Complex, and the (Israeli) occupation has targeted most of the buildings inside," he told Reuters by phone.
Colonel Moshe Tetro, head of coordination and liaison at COGAT, the Israeli defense ministry body handling civil affairs in Gaza, said there had been clashes but added: "There is no shooting at the hospital and there is no siege."
Israel says it will help evacuate babies
Israel's chief military spokesperson, Rear Admiral Daniel Hagari, said the Israeli military would help evacuate babies from the hospital.
"The staff of the Shifa hospital has requested that tomorrow we help the babies in the pediatric department to get to a safer hospital. We will provide the assistance needed," he said.
Israel has said doctors, patients and thousands of evacuees who have taken refuge at hospitals in northern Gaza must leave so it can tackle Hamas gunmen who it says have placed command centers under and around them.
Hamas denies using hospitals this way. Medical staff say patients could die if they are moved and Palestinian officials say Israeli fire makes it dangerous for others to leave.
Israeli Agriculture Minister Avi Dichter was asked by N12 about images of Gaza residents evacuating south and whether that was a goal of the war, or only temporary.
He described the situation as being "Gaza's Nakba" — a reference to mass dispossessions of Palestinians after Israel was founded in 1948.
"Operationally there's no way to conduct a war the way the IDF (Israel Defense Forces) wants to conduct it inside Gaza territories while the masses are between the tanks and soldiers," Dichter said. "I don't know how it will end."
'Totally scary atmosphere'
Ahmed al-Mokhallalati, a senior plastic surgeon at Al Shifa, told Reuters there had been continuous bombardment for more than 24 hours. He said most hospital staff and people sheltering there had left, but 500 patients remained.
"It's totally a war zone. It's a totally scary atmosphere here in the hospital," he said.
The military wing of Hamas ally Islamic Jihad, the Al-Quds Brigades, said it was "engaged in violent clashes in the vicinity of Al Shifa Medical Complex, Al Nasr neighborhood, and Al Shati camp in Gaza."
Al Nasr is home to several major hospitals.
Israel said earlier it had killed what it called a Hamas "terrorist" who it said had prevented the evacuation of another hospital in the north, which Palestinian officials have said is out of service and surrounded by tanks.
It said Ahmed Siam was killed along with other militants while hiding in the Al Buraq school. Palestinian officials told Reuters on Friday at least 25 Palestinians had been killed in an Israeli strike at the school, which was packed with evacuees.
Israel said rockets were still being fired from Gaza into southern Israel, where it has said about 1,200 people were killed and more than 200 taken hostage by Hamas last month.
Palestinian officials said on Friday that 11,078 Gaza residents had been killed in air and artillery strikes since Oct. 7, around 40% of them children.
Israel said it had increased the number of places in which it said it would stop firing for several hours at a time so Gazans could move south, and a military spokesperson said the last three days had seen the evacuation of at least 150,000 people.
In London, at least 300,000 pro-Palestinian demonstrators marched and police arrested over 120 people as they sought to stop far-right counter-protesters ambushing the rally. Over 20,000 people joined a pro-Palestinian rally in Brussels.
Meeting in Saudi Arabia, Muslim and Arab countries called for an immediate end to military operations in Gaza, rejecting Israel's justification of self-defense. —Reuters
Read more, click here: GMA News
7 Easy Ways To Make Extra Money At Home


Learn Trading and know Two Platform that easy to Start With