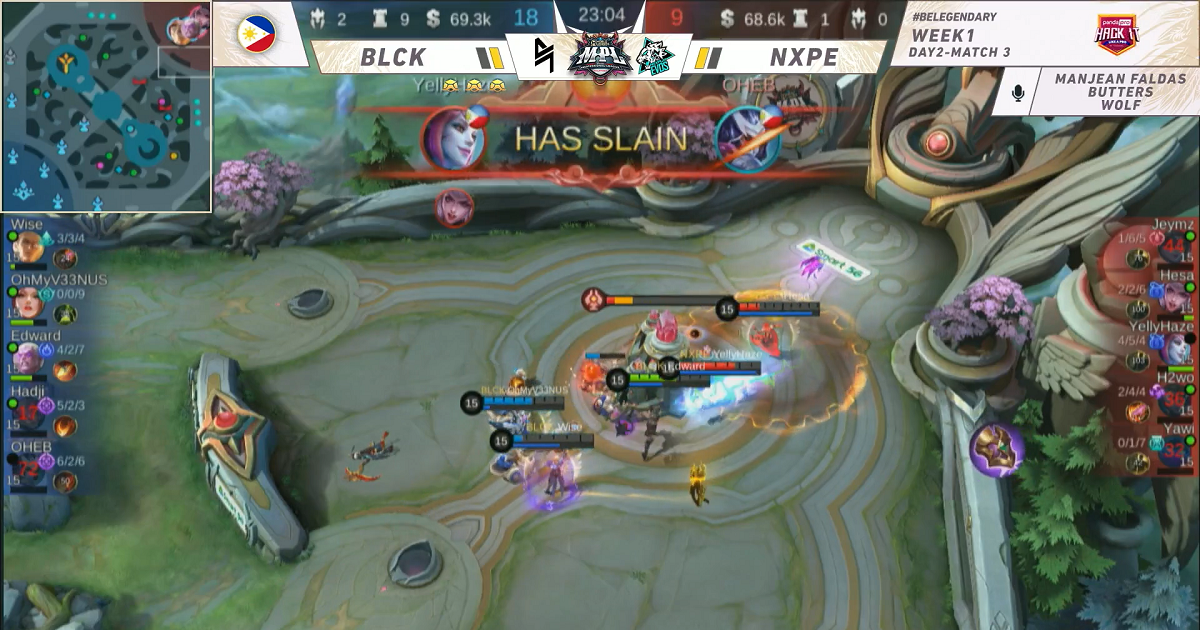 - Advertisement -
After Pinoy teams ruled the major international tournaments earlier this year, the Mobile Legends: Bang Bang Professional League (MPL) Philippines has been highly anticipated not just by fans but also by scouts from other countries.
MPL PH Season 8 finally opened this weekend after suffering from delays due to the COVID-19 pandemic, and here are some notable takeaways from the first week of action.
- Advertisement -
Defending champs, still the team to beat
Despite losing the 2021 MPL Southeast Asian Cup crown to fellow Filipino Team Execration, Blacklist International showed that they are still on top of MPL Philippines with masterful performances in their first two matches of Season 8.
If not for a miscalculated 14th minute aggression in Game 2 where they enabled NXP Evos to turn the game around, Blacklist had an otherwise flawless performance over the weekend with two wins, mirroring their Season 7 early goings where they grabbed their first franchise championship.
With the core of Danerie "Wise" Rosario, Jhonmar "OhMyV33nus" Vilaluna, Edward "EDWARD" Dapadap, Kiel "Oheb" Soriano and Mark "Eson" Gerardo still intact, it seems like breaking the code would still be a tantamount task for the rest of the league.
It is still early to tell but knowing the history of Blacklist from MPL PH Season 7 and the MLBB Southeast Asian Cup (MSC) 2021, the team seems locked in to that back-to-back championship.
Echo, Onic not far behind
Former rivals Echo Esports and Onic Philippines, who battled in back-to-back finals series in Season 4 and 5, displayed scintillating performances during opening weekend as they conquered separate titlists en route to rising up in the standings.
Echo, formerly AURA Philippines, recovered from a 0-2 opening day loss at the hands of Onic by completing 2-0 sweeps of 2021 World Champions Bren Esports and Omega Esports, whose roster is composed of the core of Southeast Asian kings Execration.
After flopping in the lower-bracket finals of MPL Season 7, Echo looks eager to bounce back with the return of captain Christian "Rafflesia" Fajura who was immortalized with his Khufra plays in Season 4 that helped the then-called Sunsparks to back to back championships. He was sparingly used in Season 6 and 7.
Onic, who had a disappointing Season 7 campaign after missing the final four for the first time since the franchise joined in Season 4, welcomed the return of Allen "Baloyskie" Baloy, formerly "Greed" of Aura Philippines, to the team.
They made their presence felt with a 2-1 conquest of Smart Omega. Onic paraded pretty much the same line-up last season with the addition of Baloyskie and looks to bounce back and contend again this season. They also had their moments last season but weren't able to maintain their hold of the top spot that brought them down to the lower bracket.
If Onic manages to be consistent in their plays, they will be a welcome addition to the already crowded top contenders composed of titlists like Echo, Bren, Blacklist and Omega.
Omega missing Kelra, Bren out of form again?
Visibly missing the presence of 2021 MSC MVP  Grant "Kelra" Duane Pillas in the goldlane, the roster of the reigning MSC titlists struggled with a 1-2 loss to Onic and a 0-2 sweep to Echo. Kelra was suspended for two weeks because of his homophobic remarks in a livestream. MPL rookie Robert "Hito" Candoy surely has big shoes to fill if Omega doesn't want to get buried early on until Kelra finishes his suspension.
Similarly, Bren also suffered from back-to-back defeats, a 0-2 loss against Echo and a 1-2 loss to MPL PH newcomer RSG. Coincidentally mirroring their early MPL PH Season 7 campaign, Bren should sound the alarm soon as championship hangover is no longer an excuse this time. The team has a pretty much similar roster since their Season 6 championship so they still have all the tools to turn this season around.
—MGP, GMA News
7 Easy Ways To Make Extra Money At Home