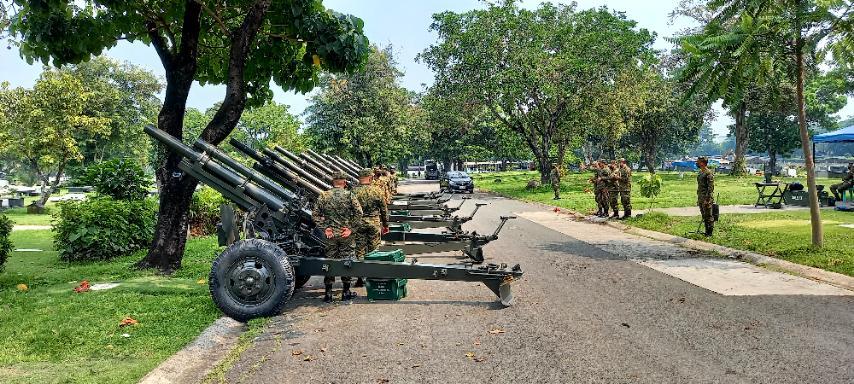 - Advertisement -
The Armed Forces of the Philippines (AFP) will hold simultaneous gun salutes on Saturday for former President Benigno "Noynoy" Aquino III or PNoy, a military official said.
"Simultaneous Gun Salutes at NCR military camps and distant camps are AFP's Final Salute to the Commander in Chief, AFP Deputy Chief of Staff for Operations Major General Edgardo De Leon said in a statement.
- Advertisement -
"While uniformed servicemen and other national heroes are entitled of gravesite gun salute, only Former Presidents are entitled to the AFP simultaneous gun salutes," he said.
De Leon said the gun salutes will commence once the vehicle bearing the urn with the ashes of the former President leaves the Church of the Gesu in Ateneo de Manila University.
The artillery guns will be fired in salute to the former President at saluting stations at Camp Aguinaldo, Fort Bonifacio, Fort Abad, and Villamor Air Base at one minute interval, he added.
"At the gravesite, there will be another 21-gun salute before the flag is folded and handed over to the family," De Leon said.
After the flag has been handed to Aquino's family, military camps of the Philippine Military Academy, Northern Luzon Command, Southern Luzon Command, Western Command, Central Command, Eastern Mindanao Command and Western Mindanao Command will then commence their gun salute, he added.
The AFP will also observe 30 days of mourning, De Leon added, as stated in the military regulations.
Soldiers will wear a "Badge of Mourning" on the left arm sleeves of their uniform above the elbow for 30 days, he added. 
De Leon added that the state funeral for Aquino is "really challenging" as such funerals "for a deceased former President does not happen regularly."
The AFP will follow written doctrines and manuals on the ceremony as well as the Heraldic and Flag Code in this matter, he said.
"Not all military commanders and staff officers experienced an actual implementation of the procedures of State Funeral and not all our soldiers experience that," De Leon said.
"So this is really challenging as we do not do anticipative "drills or rehearsals" for State Funeral. Lahat ng materiel (All the materiel) to be used, the personnel to be involved the procedures to be executed are being done at instant. The public may need to be informed as well on this. We will do our best to perform an unrehearsed national event," he added.
On Saturday morning, preparations were already in place for the 21-gun salute more than 100 meters away from the gravesite at Manila Memorial Park. 
Aquino's ashes will be brought to the memorial park from Ateneo de Manila University after the necrological Mass.
His ashes will be placed beside the tombs of his parents, former Senator Benigno "Ninoy" Aquino Jr. and former President Corazon "Cory" Aquino. —KG, GMA News
Read more, click here: GMA News
7 Easy Ways To Make Extra Money At Home